Are you looking for the best ACNH campsite ideas to set the mood? Thanks to the generous community of ACNH, we have a list of the most inspiring and creative campsite ideas for you to take inspiration from. So go ahead and build the most attractive campsite anyone's ever seen, with the help of these ideas.
When you are tasked with building a campsite for your island in Animal Crossing New Horizons without any blueprints or whatsoever, you may have no idea where to begin. Having a beautiful campsite not only enhances your overall island design, but also ensures that the visitors have a nice and warm place to enjoy their evenings.
If you are looking for some inspiring ACNH campsite ideas to get you started, we have compiled a list of the best designs contributed by the ACNH community on their Instagram, Pinterest, Reddit, and Twitter accounts.
So without further ado, let's take a look at these Campsite ideas to build a perfect spot, shall we?
Top 21 Most Incredible ACNH Campsite Ideas
#21 Log Campsite
This log campsite features everything log-related you can find in the game. It offers a perfect campsite stay to your villagers by adding log furniture, log fireplace, and log benches. You can also get some rattan furniture to lighten it up.
For the floor, this designer has used a light-cultured stone to keep it light. And for some color, they have spread yellow and white flowers all around. This cute little campsite exudes rustic and cozy vibes.
#20 Castaway Campsite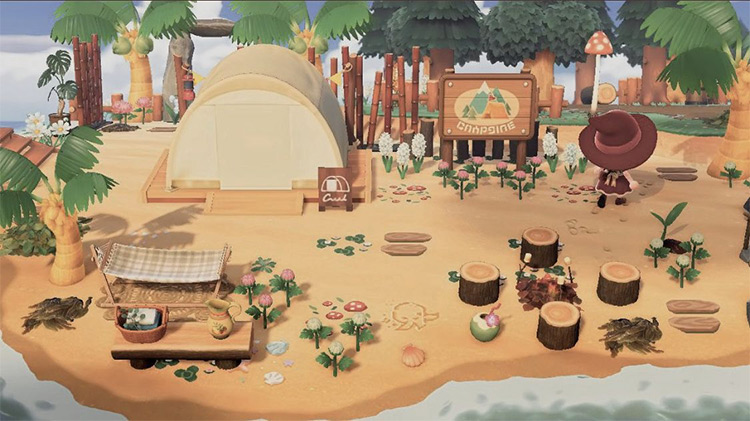 This is the perfect campsite setup for you if you want to isolate yourself from the world and live on a deserted island. This design features a number of palm trees, shells for the beach, some driftwood to give it a remote-islandy vibe, some tiki torches for the light, and a log fire to keep you warm.
For the seating, add a shell table to sip on your coconut juice. You can also place an outdoor bath near the shells to get a rock pool situation going on. Sounds like a scene out of Castaway, right?
#19 Conversation Pit
Want to transform your campsite into the center of attention? Make it the talk of the town by creating a conversion pit at the center of the campsite. To make it possible, you will need to place the tent on the island's second level and then make a hole in the ground by terraforming.
For the pit, add some Cushions for comfort, Log Chairs, and finally a Bonfire to make it all warm and cozy. You can also add Custom Design tiles and rugs on the ground to make the seating area aesthetically pleasing. You can also add a few Kids' Tents so the kids can have their own fun too!
#18 Tarzan Campsite
This Tarzan-inspired Campsite idea has been nicely created using Bamboo Partitions as fences. They have also planted Bamboo trees in the area along with some really cool items to resemble Professor Archimedes Porter's gadgets.
So if you are a Tarzan fan, this one is sure to catch your attention.
#17 Clifftop Campsite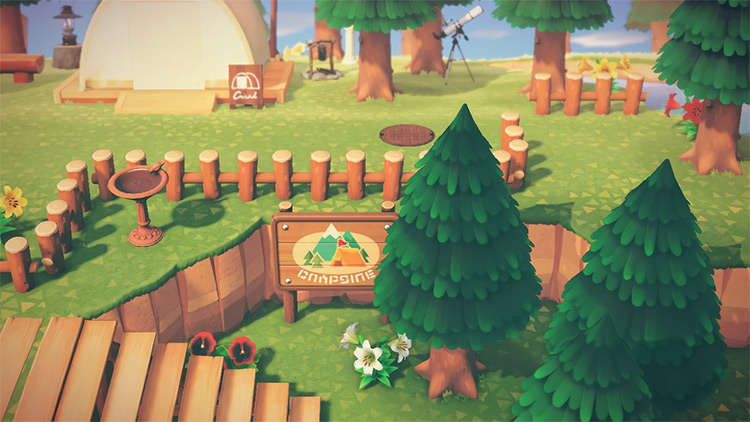 This one is one of my favorite campsites of all time. It is a clifftop campsite that has been created to be secluded from the world. It is incredibly serene and features a winding river as well. The creator has placed fir trees and also added a water pump next to the river.
For the decorations, you can use your favorite color flowers, a garden faucet, wooden steps leading to the clifftop, log benches, and anything rustic to resemble a woodland vibe.
#16 Picnic Area
This campsite design also features a small picnic area featuring Custom Design rugs and blankets on the ground. This one also has a custom Beach Towel laid on top of the blanket for you to take a nap. To keep the picnic theme consistent, they have used the same design for both the picnic blanket and the towel.
To finish the picnic set up, add a Cutting Board and a Picnic Basket with your desired foot items to nibble on when picnicking by this campsite.
#15 Bamboo Campsite
This bamboo campsite is the perfect spot for you to meditate in. It is like a bamboo garden surrounded by Zen Fences and Bamboo Trees. It also features an Outdoor Bath and other bamboo-themed items, such as a Deer Scare, Bamboo Shoot Lamps, Bamboo Candle Holder, and yellow flowers for a more natural tone.
This is a perfect design idea for a small area and is also quite easy to recreate for beginners.
#14 Hidden Campsite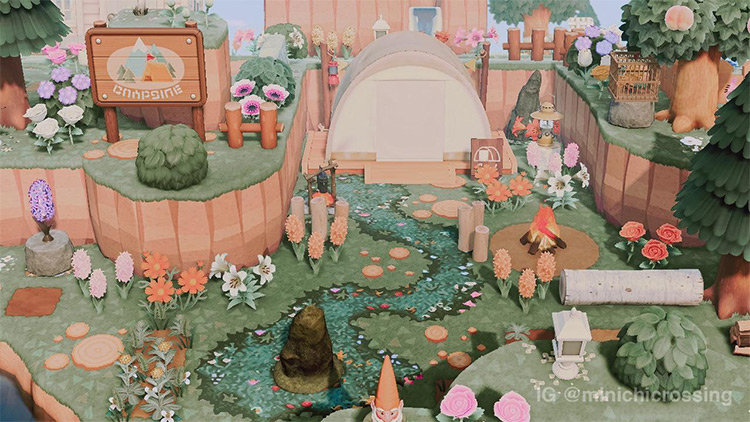 This beautiful hidden campsite has a lot going on, but still look absolutely magical. It features a very beautiful mushroom and flower grass path, which looks mystical. This design uses campfires, stones, and colorful flowers to maintain the theme.
To keep it hidden, this designer has used cliffs to create a seclusion. You can also expand this campsite by adding multiple piles of leafs around different types of trees. There is even a little artisanal bug cage near the tent that you can use to keep your latest catches.
There are also a number of bamboo pieces, such as a noodle slide off to the side and a bamboo basket to add a light color to the mix.
#13 Vines and Moss
This one takes you right into the middle of the woods. This campsite is hidden deep in the woods and can be quite spooky between all those trees and plants. It is surrounded by pure wilderness all around, featuring vines, Giant Vines, Glowing Moss, Ruined Decorative Pillars, and Glowing Moss Balloons that make the whole setting feel more natural and mysterious.
The glowing items look incredibly cool at night. So wait for the sun to set down to view it all in the dark and be in awe.
#12 Cozy Campsite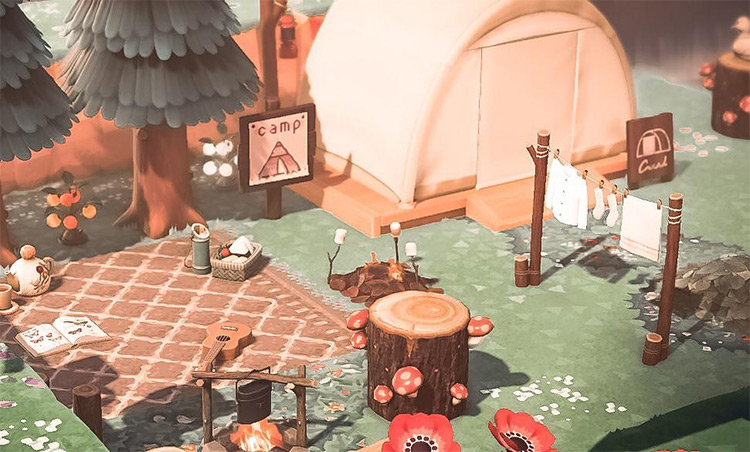 This cute little campsite is for all the english people out there who love tea! Featuring a teapot, a mug, and a cozy blanket, this campsite is an ideal English picnic. It is adorned with cherry blossom decor and furniture. You can also add a pile of cherry blossoms and add a few cherry blossom tree branches to announce the arrival of spring.
Throw in a couple seasonal items for the small details, such as a little book, a violin, some garden lanterns, and a signboard to add to the feels.
#11 Getaway Campsite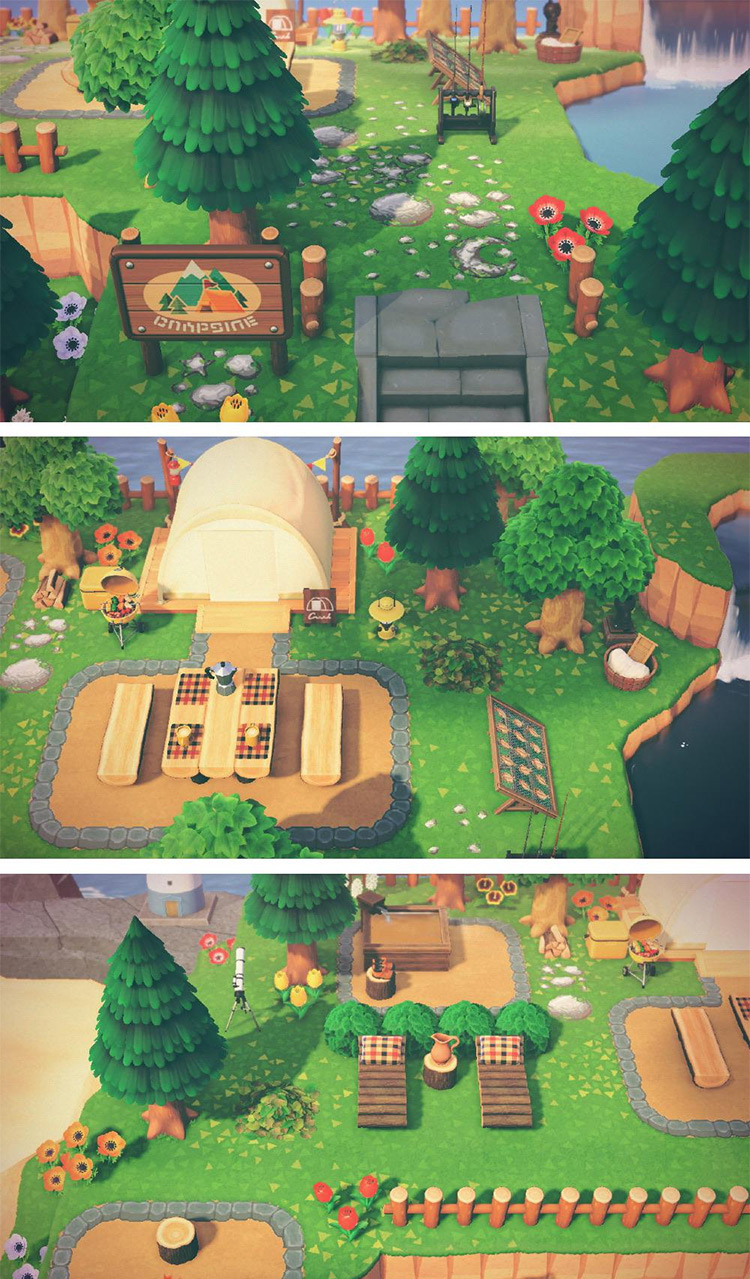 This huge campsite features its very own spa, fishing spot, and picnic area, proving to be a perfect mini-vacation spot. It features a typical zen theme with the help of zen cushions and pots. You can place both hardwood and softwood trees, whichever ones you prefer. This creator has used hardwood trees.
For the decor, they have used differently sized rocks around the trees, added a few flowers and garden items, log stumps, and a gong.
If you are looking for a truly zen and relaxing campsite where you can relax the entire day, go ahead and recreate this with your own favorite items.
#10 Stargazing and Camping
If you are into astronomy, then you would know that the perfect spot to look at stars is the one that's away from the city lights. Star gazers love to camp out in the wild to look at the night sky. So if you are someone who loves to do so, this is the perfect campsite idea for you.
This design features Books, custom Stack of Books, and a telescope to look at stars. First, lay down a checkered green blanket on the ground (find its design code on the user's profile) and then throw in some Log Benches, Log Chairs, Leaf Campfire, Mush Log, and Pile of Zen Cushions to make the setting cozy and comfortable.
You will now have a perfect spot to camp out and look at the night sky. Feel free to invite guests for a night.
#9 Winter Wonderland Campsite
What better way to enjoy a campsite night than during the festive season? With the Festivale event in the game, you have access to the most amazing festive items that you can decorate your campsite with. You can even customize these items to go with your Campsite's garland.
For this specific design, the Reddit user has added Festivale Parasols, Festivale Balloon Lamp, Festivale Lamps, and a Festivale Stage with Festivale Drum and Floor Lights. Both the campsite and Festivale garlands are identical.
Since these items are only available in every February, make sure to get them while they're available. You can either trade feathers for these items with the peacock NPC Pave, or you can purchase them from your Nook's Cranny.
#8 Camping by the Lake
Want to truly get away from the society and camp far out? This lakeside campsite allows you to get away from the residents and enjoy some time by isolating yourself. This island campsite design features the most creative water and land terraforming to build a big lake and a small island within it.
To make it look natural, add bushes, trees, flowers, and tree stumps. Oh and don't forget to line the island with some Country Fences. You can also add a personal touch by adding a Mountain Bike, a Wooden Stool with a Lost Item, and a Destination Signpost.
#7 Riverside Campsite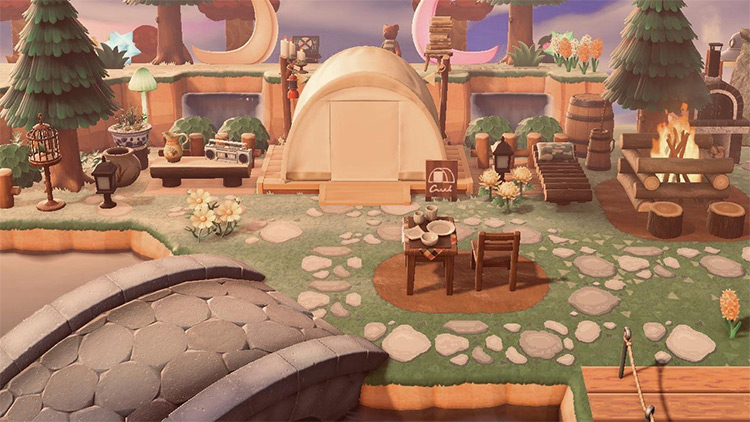 This riverside campsite is the most beautiful campsite you will ever come across. It features a custom path and a stone bridge that leads your visitors into the campsite. There is also a warm log fire on the side with mushroom lamps here and there for ambiance.
Make it a party by adding a fruit water dispenser and a fruit basket. You can also add an orchard nearby to pluck a fruit every time you feel like snacking. Perfect, right? It has everything you could possibly need.
#6 Winter Campsite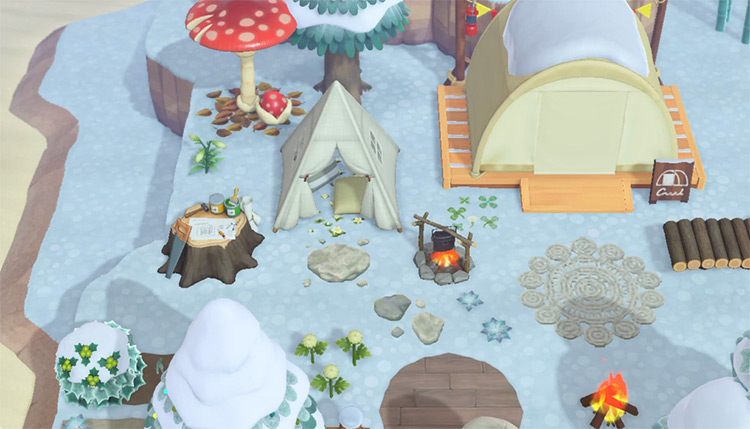 This snowy campsite features everything seasonal. From the flooring and trees to flowers and decorations, everything will remind you of a perfect day out in the winter. The user has even shared a complete video showing how they built it. So go ahead and check it out to build a winter campsite.
#5 Beach Campsite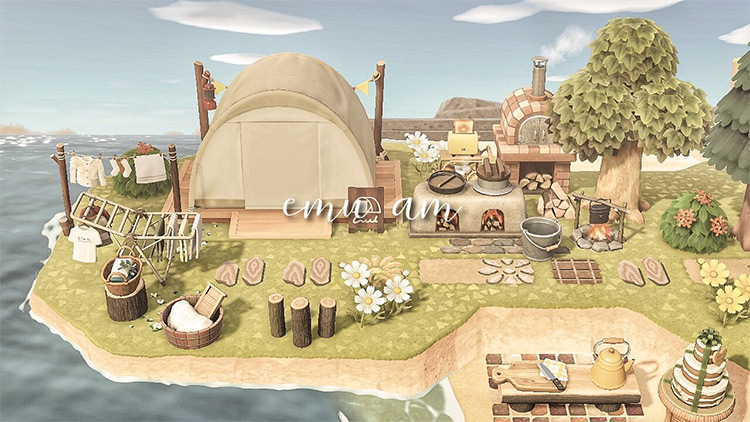 Having a campsite in the middle of a forest sure sounds fun. But how about a campsite by your own private beach to view that beautiful sunrise and sunset? Well, this campsite design offers just that by using both the beach and the island for the site.
This designer has created a kind of rustic look by using rattan furniture, log pieces, and wooden items to keep it all natural. For the flooring, they have used various types of floors to compliment the surroundings.
To maintain the theme, throw in some mushroom furniture, mushroom lamps, logs, a fireplace, and a few flowers and voila! You have your very own beach campsite.
#4 Treehouse Campsite
Don't you just love those cute little treehouses in the forests that look like a perfect getaway? Now imagine a tree house that is spacious enough to house a camp. Sounds pretty cool, right?
This beautiful wooden campsite is built on a treehouse, surrounded by plants, shrubbery, and trees. To place the camp on the treehouse, this user has terraformed a mound and placed the tent on top. The tent is surrounded by Loft Beds to make the setting a little cozy. For the treehouse, they have used Bamboo Partitions and Bamboo Trees.
Once you are done building the treehouse, surround it with a little greenery and color. While this design looks a little complicated, it's actually easier than you think. You will just need multiple copies of some items for terraforming.
#3 Fairycore Campsite
If you are looking for a cute little campsite in a fairyland forest, this design is sure to catch your attention. This one features Glowy Mush Lamps to set the ambiance. For the pathway to your camp, you can place circular log paths to make it look magical.
For the decorations, use Mush Table, Super Mushroom, Mush Log, Mushroom Platforms, Mush Low Stool, to go with the magical theme. You can add apple trees and red flowers to maintain the red theme. To complete the look, add a signboard for the campsite and you have your very own magical-themed campsite.
#2 Waterfall Campsite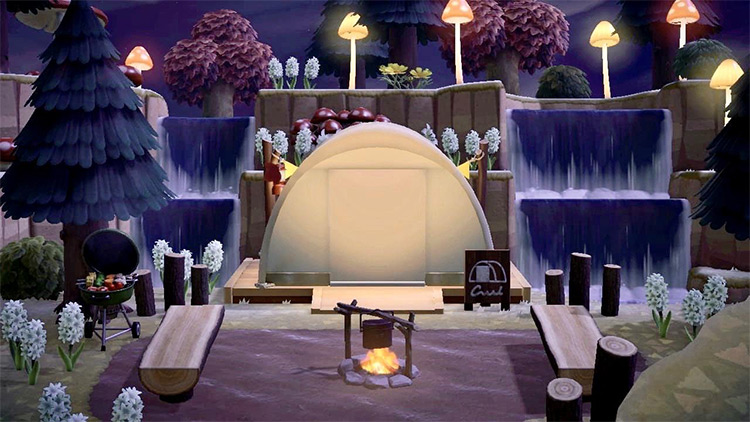 This brilliant campsite design features a modern well-lit setting. With double waterfalls on either sides, mushroom lamps for lighting, a few fruit trees, and a DIY bench made from wooden logs, this campsite screams cozy and warm.
For the mystical woodland vibe, you can hide a spinning wheel somewhere in the corner and also place a Simple Well that will produce echo from the sounds coming from the forest. Make sure to keep it all symmetrical by placing the same elements on either sides of the camp.
#1 Festive Campsite
This festive campsite by Hannah is everything you can expect a perfect campsite to be: warm, well-lit, surrounded by greenery, and cozy. This one features a warm bonfire created from log stakes. The site is surrounded by String Lights and colorful trees.
You can pick whatever trees you like and also throw in a number of Party-Lights Arches to light up the area. Place a few lanterns and add a little stereo for entertainment.
Are you looking for some really creative Animal Crossing island entrance ideas? Check out our top 21 picks for the best and most innovative player's island entrances.
Conclusion
So that's all, folks! This sums up our top 21 picks for the best ACNH campsite ideas. If you got some inspiration from these ideas, feel free to re-create these designs and share your beautiful campsites with us. Don't forget to credit the original creators too.
Good luck!