Looking for some inspirational Animal Crossing island ideas to design an absolute masterpiece? Read on to find our top 21 picks for the best Animal Crossing island designs to get started. These ideas have been created by some of the most highly-rated players, so you are sure to find the inspiration you seek!
Have you run out of all the interesting island ideas to build in Animal Crossing? Whether you are a new player who has no clue what to do with their island, or an existing player who is building their island for the gazillionth time, you will need some really interesting island design ideas to leave your visitors in awe.
So if you are looking for some really innovative Animal Crossing New Horizons Island ideas to build a next level island, we have compiled a list of some of the most breathtaking island designs contributed by the New Horizons community. Created by some of the most talented island designers, these designs are sure to give you some much-needed inspiration.
So without further ado, let's take a look at some of the best Animal Crossing island ideas, shall we?
Top 21 Best Animal Crossing Island Ideas to Take Inspiration From
#21 Museum Castle
This design is specifically for the museum on your island. It creates a grand entrance to your museum by using Castle Towers, Castle Walls, Castle Gate, and a number of Pergolas that give your museum an absolutely majestic entrance.
Your visitors will love walking through these pergolas and right into the museum, feeling important like a celebrity.
#20 Fenced Flower Beds
This is a unique flower garden idea that includes flower beds surrounded by fences, spread all over your island to give it a magical appearance. This designer has used Simple Wooden Fence to surround the flowers in square-shaped beds.
Sounds boring? Well, there's more! These flower beds aren't exactly what they seem like. This user has creatively placed Pergolas underground, giving it a beautiful illusion. Who knew there were entire pergolas hidden beneath these flowers?
In my opinion, this is one of the most creative Animal Crossing island ideas I have seen. You can use Custom Design Paths and Log Stakes around these flower beds to finish off the look.
#19 Castle Walls in Town
This island design transforms your island into a medieval themed Castle town by using Castle Towers and Castle Walls. It also uses Brick Paths and Arched Tiles to finish off the look. What's more, you can also place a couple trees and some outdoor furniture, such as Chair and Iron Garden Table to enhance the aesthetics of this castle town.
So if you feel like visiting a quaint old down with castle towers and walls, this design will come in handy.
#18 Flower Garden
Ever wondered what the difference is between wildly growing flowers that take up all your space and those beautiful flowers blooming on the roadside as you walk down? Well, fences! When you don't tame these beautiful blooms in Animal Crossing, they can take over all your place and grow wildly, leaving no room for anything else!
This design by @isleofsoph transforms your island into a beautiful garden blooming with white flowers inside Vertical-Board Fences. To make it look more heavenly, add in a few Bunny Garden Decorations, Garden Wagons, and a small picnic area and you'll have the perfect garden anyone could ever wish for!
#17 Fancy Blather's Tent
Transform Blather's Tent into a more fancy spot for fossil lovers with this cute island design. This is a temporary theme idea as you will need the full museum unlocked to progress the game. This design features a Bamboo Basket, a Green-Leaf Pule, a Stack of Books, and a Tiny Library to transform it into a cute little spot for science lovers.
There is also an Artisanal Bug Cafe to keep the bugs at bay and a Handcart filled with all the dirt from fossil digging.  
#16 Hidden Totoro Clearing
This one is for all the Totoro fans out there. This Animal Crossing island design features a hidden forest clearing where you will find Totoro resting. You can use the Custom Design code (MA-4622-7548-6251) by this designer and place it in shady nook on your island.
All you need is the code and some different types of flowers and trees to surround the clearing. You can also get a Yellow Butterfly Model and an Emperor Butterfly model from Flick for the decorations. To finish it off, adorn the setting with Glowing Moss Stools and some Mush Partitions.
#15 Riverside Town
This one looks like it's taken straight out of a melancholic anime. This design features a peaceful riverside town made by terraforming riverbanks around the island. Add some Block Fences for barriers, Wheat Field tiles, and a Custom Design path to transform your island into a Japanese-style riverside town.
For the lighting, this designer has used big Stadium Lights. There is also a Retro Transportation Stop to finish the look.
#14 Waterfalls Entrance
This is one of the most beautiful waterfall entrances to your island that will leave your visitors in awe. No matter how challenging it looks to create, it is actually quite simple and can be made using the in-game items and tools.
You can start by terraforming and making a land bridge and waterfalls. For the pathways, use Terra-Cotta tiles. Get a few Garden Benches and craft a Destination Signpost. And for the lighting, get Streetlamps from the Nook Stop.
The only custom thing you will need here is the code for the tile border. Which is provided by the designer. So no need to worry about that either. Goodluck!
#13 Cobblestone Town
This design will transform your island into a European town paved with cobblestone pathways. This design features Arched Tile paths to get rid of those sandy paths, Custom Design cobblestone paths, Castle Walls, and Castle Towers to make it look like a small town.
You can get the custom Dream Address code from this user for the cobblestone paths. So go ahead and transform your island into a cute little European town.
#12 Storefronts
Wanna transform your island into a small town or city? Line it up with storefronts to make it look like a busy marketplace. This design is made using Simple Panels, Short Simple Panels, Storefronts, Castle Walls, Hedges, and Plant Partitions.
Since this design uses a custom code, which is kindly made available by the designer, you can get it from their Twitter post. Transform your island into a busy marketplace with this design!
#11 Abandoned Drive-in Cinema
Remember those good ol' days when there used to be drive-in cinemas? Well, with this design, you can take a trip down your memory lane, back to those days. This nostalgic island idea adds a drive-in cinema to your island, in the middle of Wheat Field tiles, Luxury Cars, Windmills, Plain Party-Lights Arch for the entrance, and Minicars.
The entire setting is enclosed with Wood Partitions. And for the big screen, you can place a big Projection Screen for the movies. Pretty nostalgic, right?
#10 Outdoor Library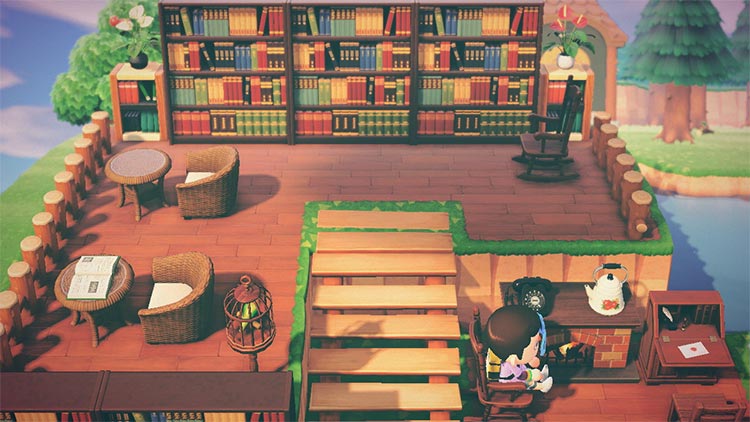 This one is for all the book worms out there! Ever wondered why there are no outdoor libraries? Well, with this design, you can create your very own outdoor library on the island. It is very simple to make! Just find a nice and calm spot on your island and place bookshelves that already come filled with books.
Place a few tables and maybe a rocking chair. Line the area with wooden fence and get to reading your favorite books in front of the sunset. It doesn't get any better than this!
#9 Star Gazing Area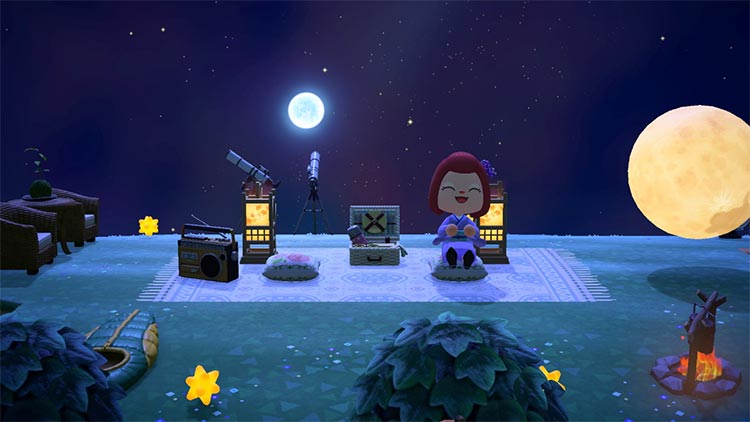 This one is for all the astronomers out there! Create your very own star gazing area on the island to gaze at the night sky. Sit back and watch the stars go by all night in this perfect setting. All you need is a number of telescopes, some sofas to sit on, a few lanterns, and your favorite rug. You'll never miss another meteor shower again!
#8 Salon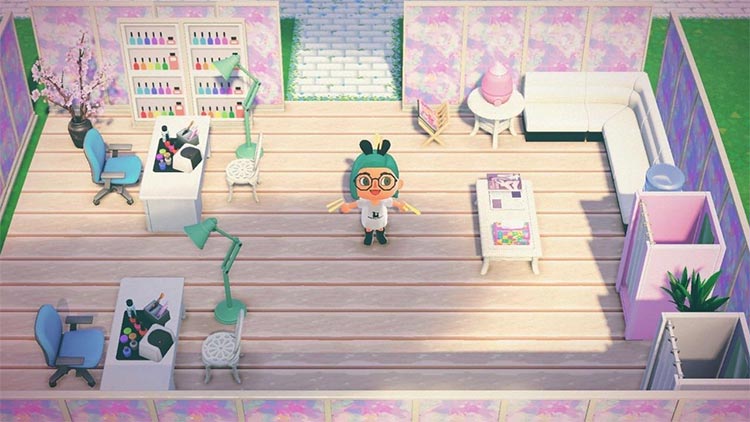 Wanna give your villages are makeover? Transform your island into a salon by using custom Simple Panels with your desired patterns on them. You can also create product shelves using custom Simple Panels.
Add some seats, chairs, and salon tables to create a relaxing space for your visitors. With so much to offer, your salon will have hundreds of clients lined up for the opening.
#7 Picnic Area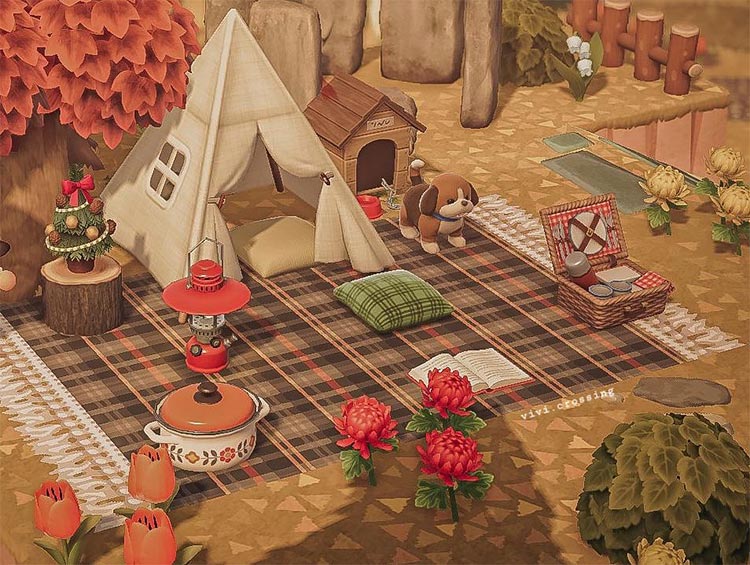 Wanna go on a picnic but can't find the time to go? Bring the picnic TO YOU by creating this little picnic area on your island. Sit back and relax in your very own picnic area after a long tiring day. This set up is quite simple to make.
Just use some custom design slots for a cozy blanket, throw in some cute little flowers and shrubs, add a picnic basket, and build a Kid's tent at the back to sit in. Oh and don't forget the dog house. It's a must-have for every picnic!
#6 Hiking Trail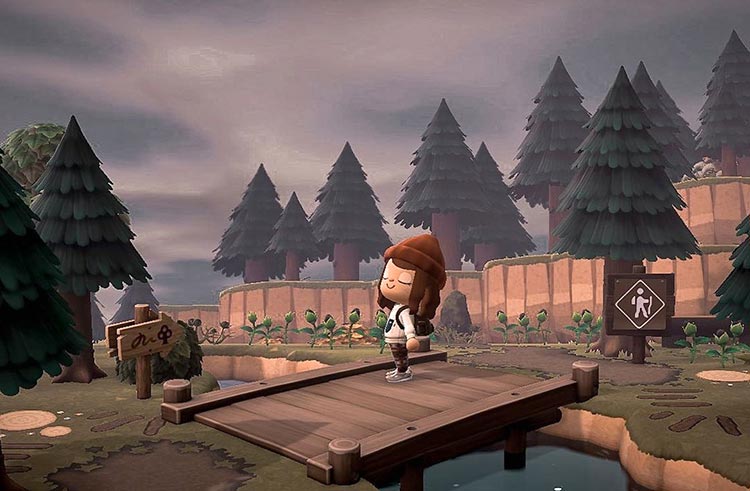 Love going on hikes? With this island design, create your own hiking trail and give your island a more natural look. Build a sleek path between hardwood trees and add a custom sign to mark the starting of the hiking. To make it more real, you can add a little hot spring.
Take your wanderlust friends on the best hike of their life by bringing them along to your very own hiking trail.
#5 Surf Shack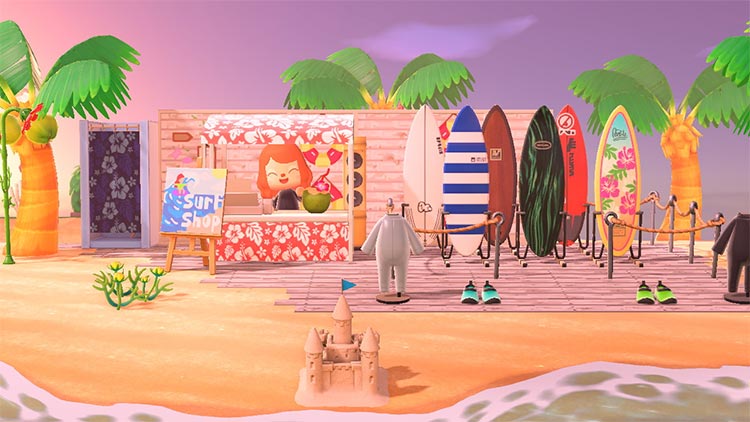 If you cannot wait anymore for summer, bring it to your island right away with this design! Create a surf shack on your beach using a custom stall and adding your favorite tropical details. Place some coconut trees around the shack and add some colorful surfboards.
You can also exhibit your snorkel and wetsuit on the beach to go with the theme. Finish it off by adding a sandcastle, which is a must-have on every beach!
#4 Sweet Cake Shop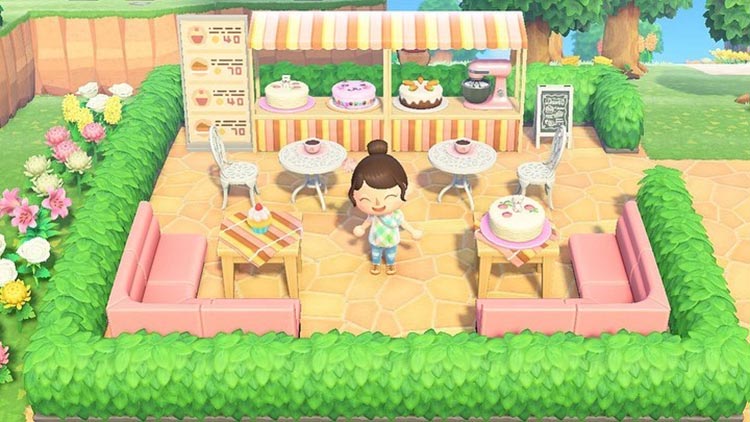 This cake shop is for all those with a sweet tooth out there! Build your very own cake shop and cafe on the island to feed your visitors the most delicious cakes. You can serve wedding cakes and birthday cakes on your shop.
Wondering how? Well, you can get the wedding cakes by taking photos for Cyrus and Reese during the wedding season. And for the birthday cake, you will get a Birthday Cake from your mom on your birthday.
If you are looking for an alternate way, just create a bespoke cake design on a hat. Simple!
#3 Spectacular Waterfall Entrance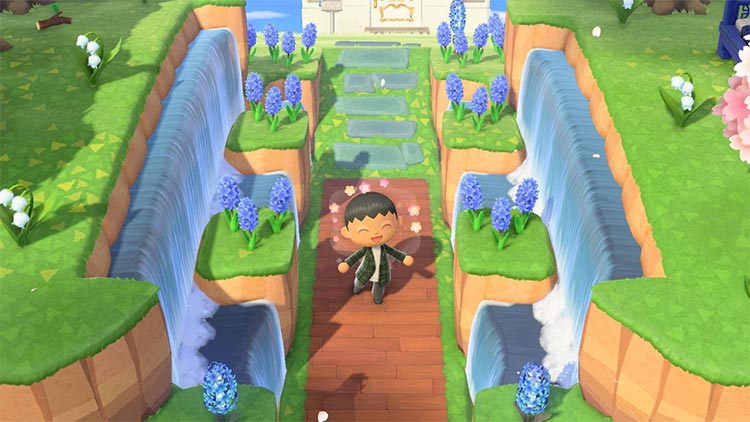 This epic waterfall entrance is sure to leave your island visitors in awe. This design features a breathtaking waterfall entrance that surely does not look easy to create. However, all you need are two cliffs with waterfalls flowing down from their edges.
To finish it off, pick a brick or stone pathway for the middle and add your favorite flowers. Boom! You have your very own grand entrance.
#2 Pirate Cove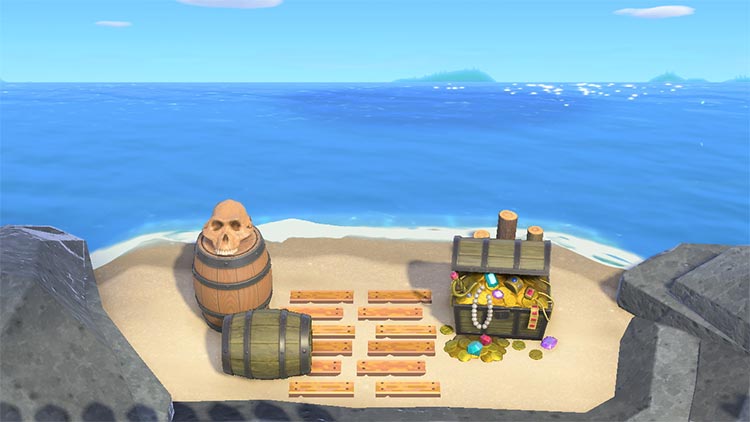 Unleash your inner Jack Sparrow in Animal Crossing by creating your very own Pirate Cove. Just collect all the pirate items, such as treasure boxes and barrels, and arrange them on a sandy beach. Make sure you create this cove on a secret beach so that it is hard to locate.
Oh and make sure to keep your treasure from the likes of Davy Jones safe. Happy pirating!
#1 London Baby!
Looking for a way to make the most of Simple Panels and Short Simple Panels? This magnificent London-inspired design by @shiron0kuma is one of the most impressive designs I have seen made from Simple Panels.
This user has lined the roads using Streetlamps, placed those iconic London style Phone Boxes, and used Castle Towers, Stalls, and Silos to make it look like a city. You can also place Pine Bonsai Trees to make them look like big trees from far away. How cool, right?
Are you looking for the best Animal Crossing: New Horizons Museum ideas? Check out these 20 most artistic ACNH museum design ideas for some inspiration.
Conclusion
So that's all, folks! If you are planning on building a new island in Animal Crossing, these island ideas are sure to come in handy. Whether you are building a modern island, a natural wonder, a camping site, or a star-gazing area, we have included all sorts of ideas to suit everyone's style.
Get building and don't forget to let us know about your favorite Animal Crossing island ideas from this list. Good luck!