Looking for the most creative Animal Crossing entrance ideas for your visitors? Animal Crossing has the most generous and creative gaming community that loves to share their ideas to inspire others. This article lists some of the most creative ideas for the player's island to make their visitors feel welcomed.
When your visitors come to your island, the first place that will catch their eyes is the entrance. So it has to be really impressive. However, with so many possibilities, it can be really challenging to figure out where to start.
So if you need some really creative Animal Crossing Entrance ideas for your inspiration to strike, below is a list of the most amazing ACNH entrance design ideas to take inspiration from. These custom ideas have been kindly shared by the Animal Crossing community to give you something to get started.
So without further ado, let's take a look at them, shall we?
Top 21 Best Animal Crossing Entrance Ideas That Will Come In Handy
#21 Jungle Feels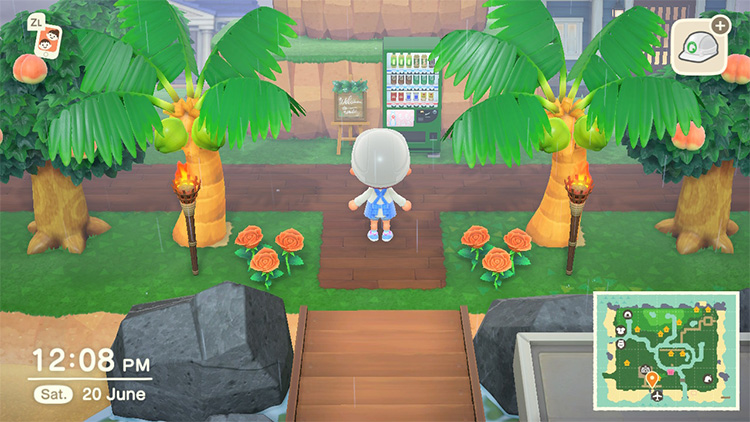 This jungle themed tropical entrance will bring all your summer dreams to life. With this entrance, you can enjoy summer all year round with the help of colorful flowers and coconut trees. Add some fruit trees around the beach area and finish it off with a welcome sign.
Oh and don't forget those tiki torches that will go perfectly with the theme.
#20 Concrete Jungle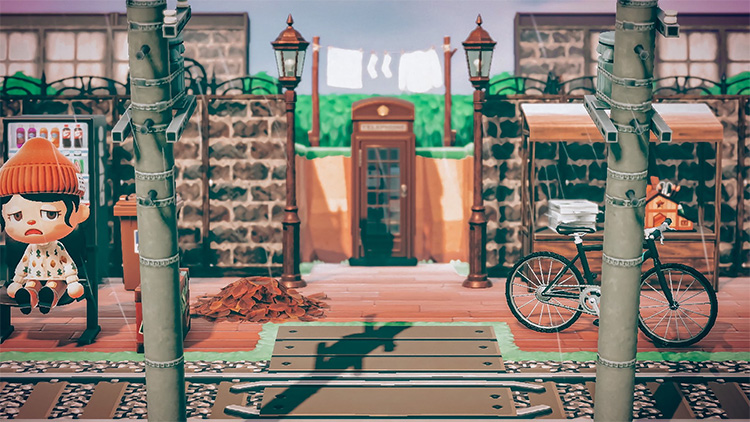 This urban city design allows you to transform your island into a concrete jungle. By using Simple Panels, you can customize them to look like custom brick design. What's more, this design finally adds a train track to your island for some transport. This track leads from the entrance of your island to the other side.
For the train tracks and the station, you can lay down custom design bricks. To finish the city look, don't forget to add a few bikes, telephone boxes, and vending machines. It will look like a perfect city-life setting.
#19 Cottagecore Entrance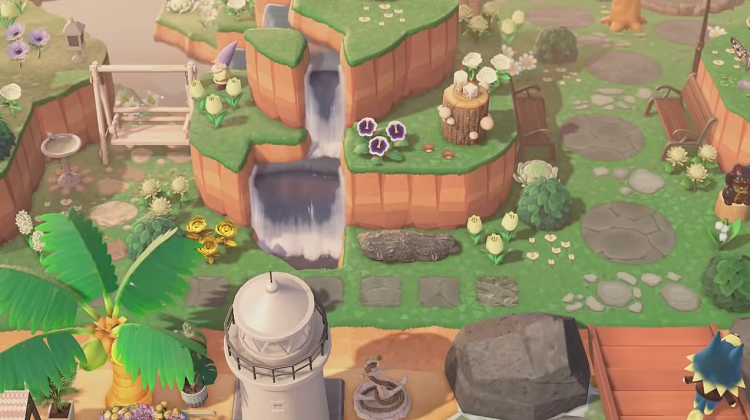 If you thrive in country life and love the concept of simple living, this cottagecore island design is the perfect one for you.This entrance features waterfall cliffs on either sides of it. To make it appear more rustic and beautiful, this designer has added flowers, shrubs, a cute little shelf fountain, some benches, a swing, and a tiny lucky cat.
The pathway is made of circular shaped stones with steeping stones in between. Everything is green, beautiful, rustic, and absolutely natural.
#18 Festival-Themed Entrance Idea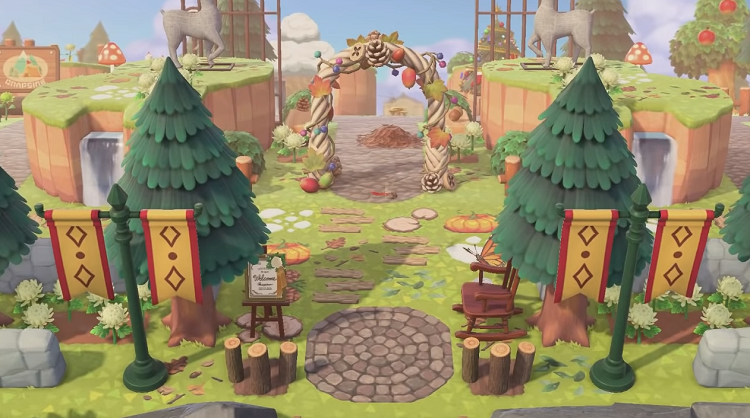 Who doesn't love festivals? With this island design, you can transform your island's entrance into a grand festival. Get everyone in the festive mood by adding all the festive items you can find to the entrance. This design looks like a Christmas-themed festival.
From globes and Christmas trees to reindeers and rocking chairs, there's a lot you can decorate your entrance with. Make sure to keep everything symmetrical. Choose a stepping stones pathway and line it with hardwood trees. Lastly, add an archway at the entrance for the final grand.
#17 Moon Landing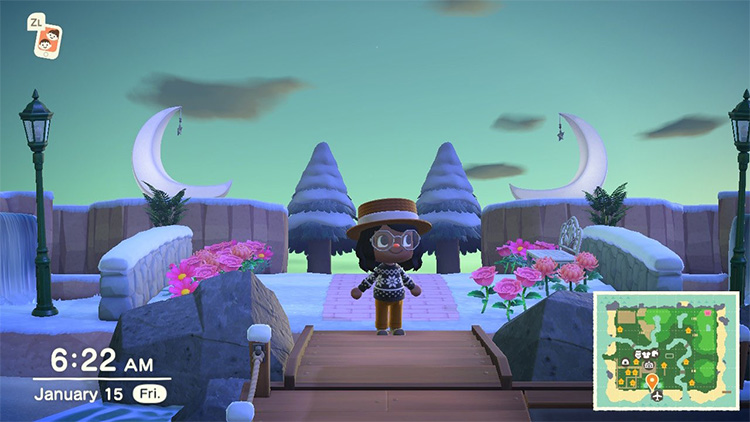 This absolutely symmetrical lunar-themed entrance is quite simple. Both the sides of this entrance are exactly identical. It features two similar cliffs with a wooden pathway in the middle. Line this pathway with your favorite flowers.
For the decor, place two crescent moons on the cliff tops and complete the look with a waterfall on each side of the path. And voila! You have your very own moon landing.
#16 Cherry Blossom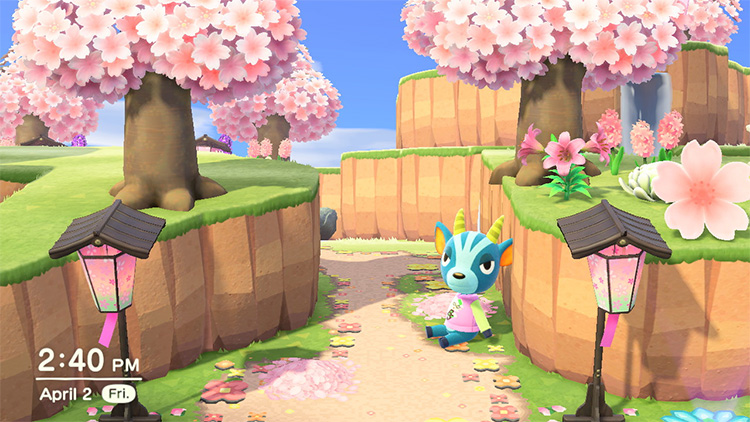 This one is for all the fans of cherry blossoms out there. From the trees and flowers to the pathway and flowers, everything in this design is cherry blossom-themed. And it's actually quite simply to make!
Start by building a few cliffs on either sides of the path. Add cherry blossom trees and pink flowers on top of those cliffs. Next, lay down a custom cherry blossom pathway to add to the theme. Lastly, place a cherry blossom lantern on either sides of the pathway to light up the area in the dark and add an aesthetic appeal.
This is an ideal entrance idea if you love pink.
#15 Zen Garden
If you all about the zen lifestyle, create a beautiful zen garden entrance to your island. To get started, line the shore with a lot of bamboo partitions and bamboo trees. Next, choose your desired pathway that will lead your visitors into the island.
You can also add a few stone steps to lead them up to the first level. It will give the illusion of a temple. Oh and don't forget to add some cherry blossom lanterns and trees to complete the look.
#14 Icy Wonderland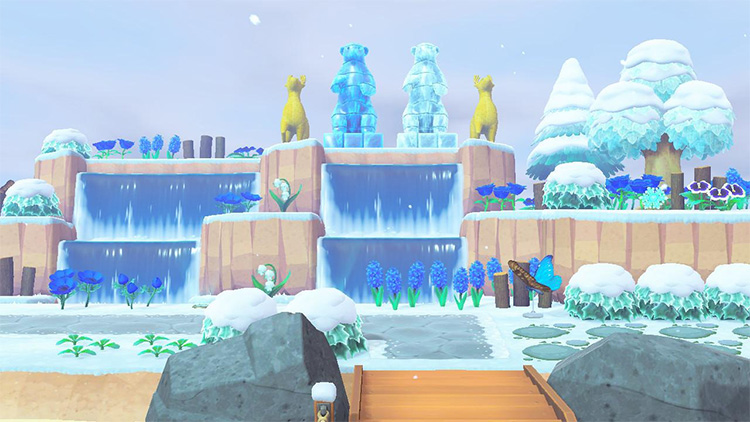 If you are tired of those summery and natural designs, this icy wonderland idea is just what you need. This stunning icy entrance is made using two-tier waterfalls that are adorned with ice sculptures to go with the theme.
For added decor, throw in some blue flowers to maintain the theme and still look beautiful. Don't forget to add some trees and shrubs that will be covered in snow in case it is snowing. Voila! You have your very own winter wonderland.
#13 Gold Fields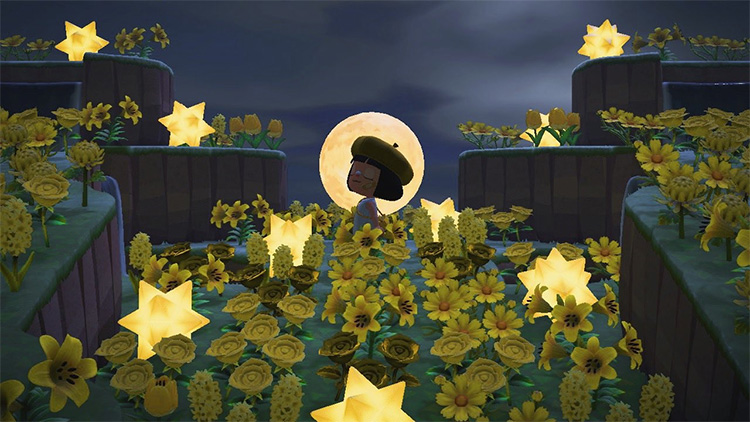 As you can tell from its name, this island design exudes golden beauty. Adorned with a mix of yellow and gold flowers and nova lights, the cliffs and grass are covered in everything golden.
For some added atmosphere, add some waterfalls to the cliffs on each side and you will have a beautiful golden wonderland to welcome your guests with.
#12 Simple Flower Forest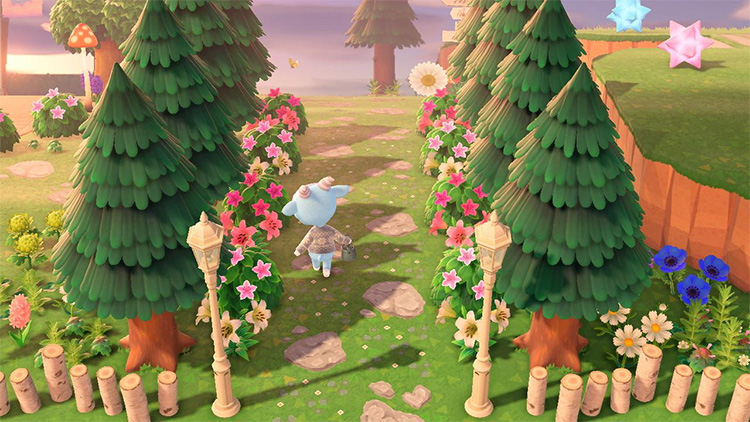 If you don't want to go for terraforming or anything too complex, this entrance design is quite simple to make. For the stone path, you will need a custom design. Get some flowering shrubs to line the edges and then add a number of hardwood trees for the sides.
You can also spread some weeds around the trees to finish the vibe and make it all look natural. To finish it off, grab some lamp posts and a wooden fence. And voila! You'll have your very own natural wonderland!
#11 Faux Bridge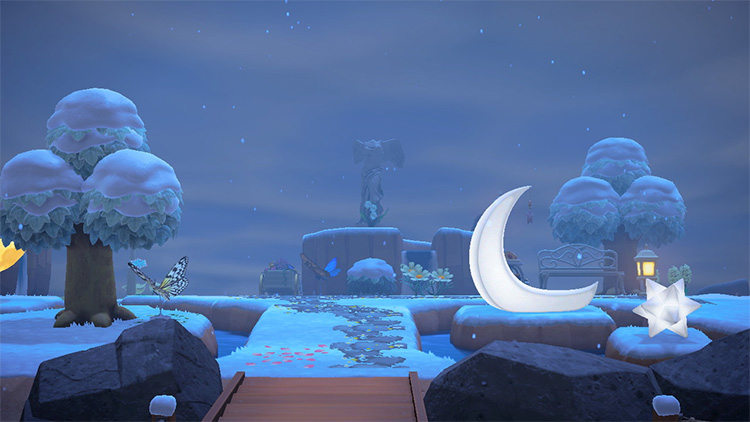 Looking to add additional mini islands on your main island? This amazing idea allows you to add multiple small islands on the entrance. If you cannot use more bridges on the island, you can make your rivers flow around a path leading to the island, creating a faux bridge.
Make sure that it connects the airport to the island. And for those mini islands, place steppingstones on the rivers to act as small islands.
You can also give it a theme by adding nova lights and star fragments. Oh and don't forget to place a few trees to add more character to the setting.
#10 Bright Lights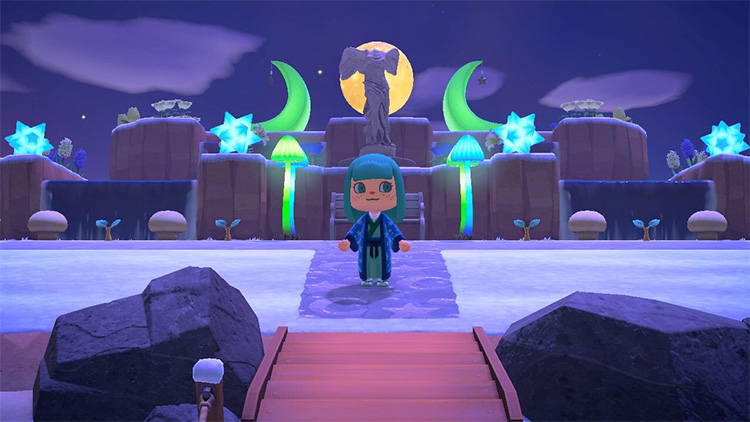 As you can see, this design features lunar objects and is set in the dark of the night to represent the celestial theme. Filled with glowing lamps, star fragments, moon, and lunar objects, no one would want to miss out on this entrance.
To create this, you will need to add two-tier cliffs and create a number of waterfalls within these cliffs. Line the cliff edges with mushroom lamp and don't forget to add nova and a few crescent and full moons for that heavenly glow.
#9 Tropical Entrance Design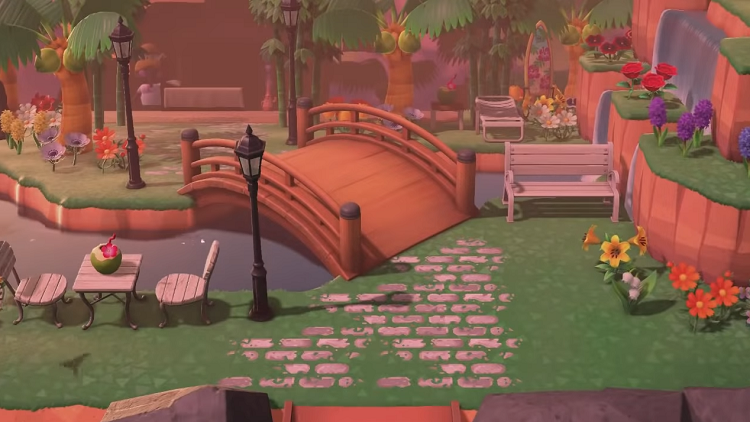 This tropical entrance looks like a perfect mini park. With a cute little wooden bridge in the middle, a water stream below, some benches to enjoy the view, and of course, some blooms to set the mood, this one is the perfect setting for your entrance.
You can also add a seating area and serve coconut juice to your visitors. This entrance is really close to the Residential Services. So you can relax while enjoying the view.
#8 Botanical Entrance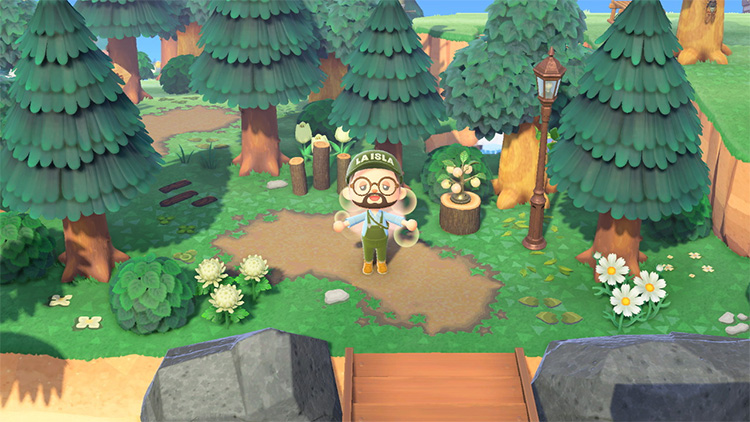 This natural green entrance to your island allows you to keep your island green and natural. By adding a mix of cedar trees and hardwood trees, you can create a cute little forest at your entrance. For the pathway, you can use rustic paths and also add tree stumps here and there to go with the theme.
Don't forget to place some flowers around the trees to add some color. Oh and don't forget to wear the appropriate footwear.
#7 Japanese Garden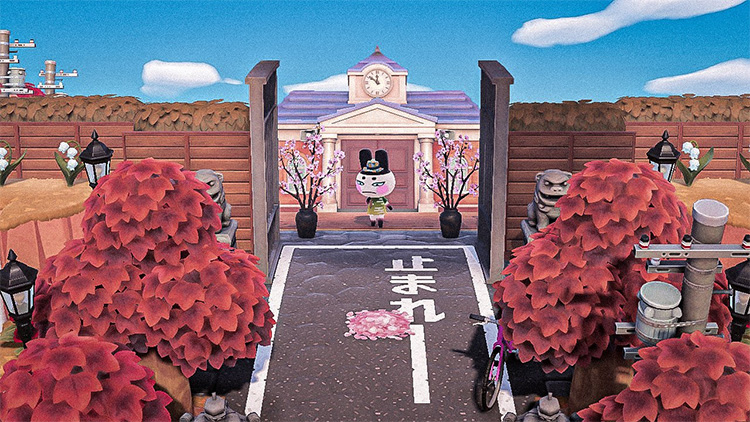 This one is for all the weebs out there. This Japanese-style entrance idea is everything you can expect it to be. This beautiful entrance leads your visitors into the Resident Services. To create this beautiful entrance, you just need to get your hands on some cherry blossom-themed items and a custom path.
For the walls, they have used customized Simple Panels. To finish off the look, line the pathway with Japanese-style telephone polls and you will have a pink wonderland, ideal for fall!
#6 Mushroom City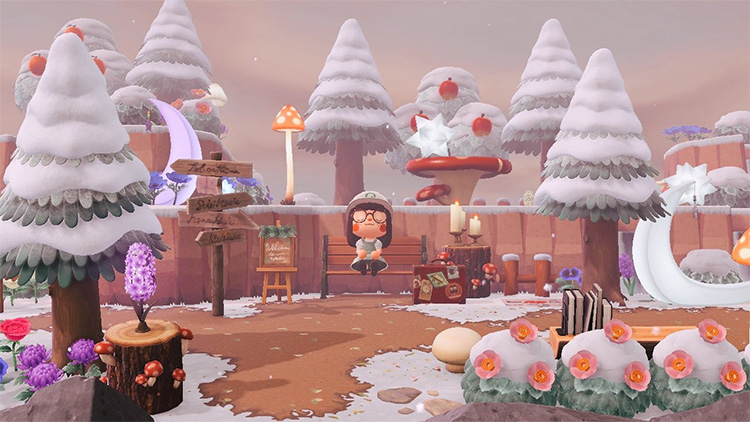 This fairytale entrance to your island makes your visitors feel like they are entering a magical wonderland. This design features magical custom paths throughout the island to keep the theme consistent. They have decorated the area with mushrooms everywhere, along with those magical mush lamps.
To add color to the entrance, use your favorite flowers, shrubs, and hardwood trees to convert it into a magical forest.
#5 City Kidcore Island Entrance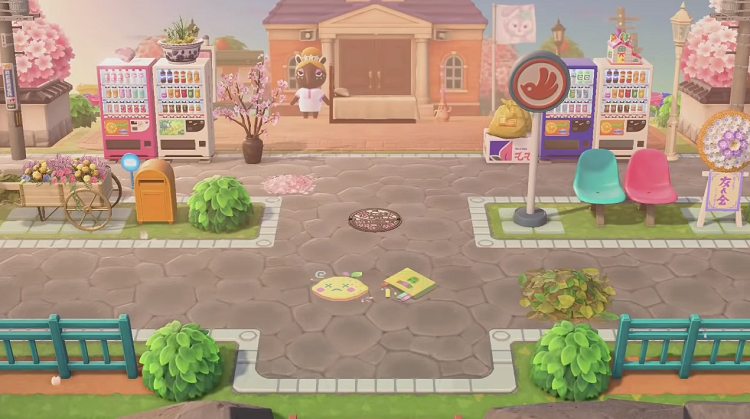 This kids-themed city entrance is a part welcome to all your young visitors. This designer has used a variety of city items with colorful trees and plants. It also features a cute little mailbox, some colorful seats, and a few vending machines to give that city vibe.
The pathway has a custom border which makes it look like a city street. For the finishing touches, they have added Sakura plants and petals, which makes this setting look like a Japanese city from anime.
#4 Rainbow Island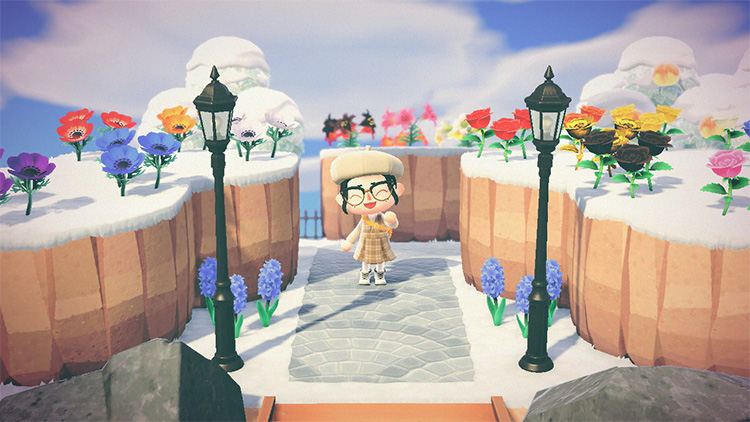 This colorful entrance will greet your visitors with the power of all colors. This design features a wide variety of colorful flowers to create a rainbow theme. It is quite simple to make. Start by adding some cliffs and pick your desired pathway for the middle.
Once you are done with this big stuff, top off the surfaces with different varieties of colorful flowers. Line your pathway with lamp posts and you have your very own rainbow island.
#3 Fairy Themed Entrance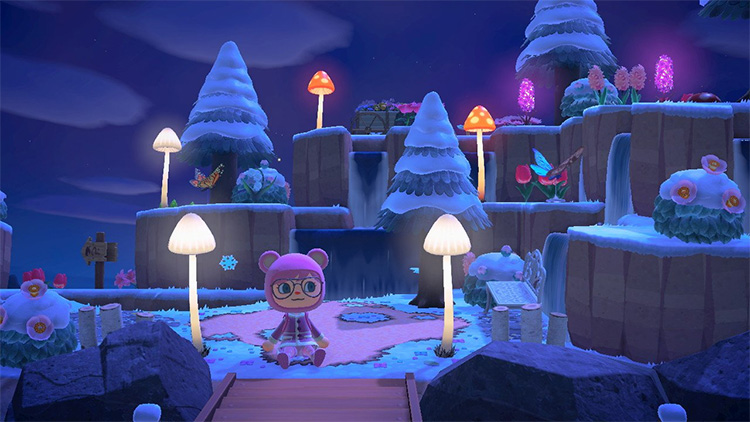 Give your visitors a magical welcome to your island by transforming your entrance into a wonderful gateway to fairyland. This fairy entrance literally screams magic. Created using cascading waterfalls and cliffs, this creative design is for all the daredevils out there.
Pick your desired custom path to lead your guests into the island. Add some mush and hyacinth lamps for glowing lights and place your favorite shrubs, trees, and flowers to finish it off.
You can also place some butterfly models by getting them commissioned by Flick.
#2 Disco Lights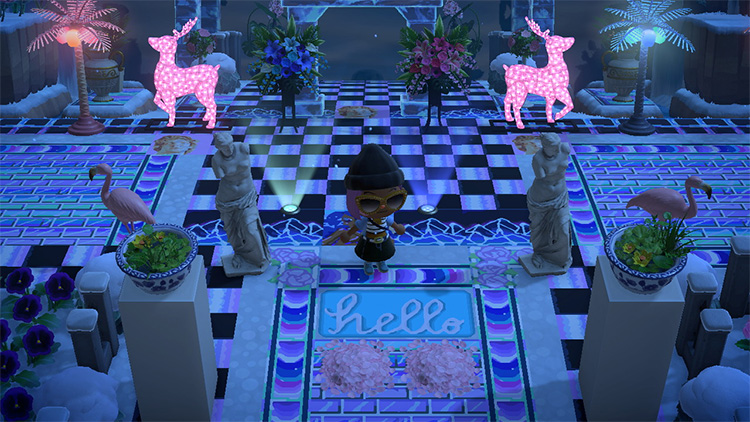 This island design allows you to offer the most entertaining setting to your guests. This disco-themed entrance says party like nothing else. Although it will occupy a fair number of design slots, it is all going to be worth it. This unique design allows you to create any type of welcome floor sign you want, big or small.
With a checkerboard dance floor, palm trees, some statues, and lights, you can transform your entrance into a grand welcome area for the visitors.
#1 Mermaid Falls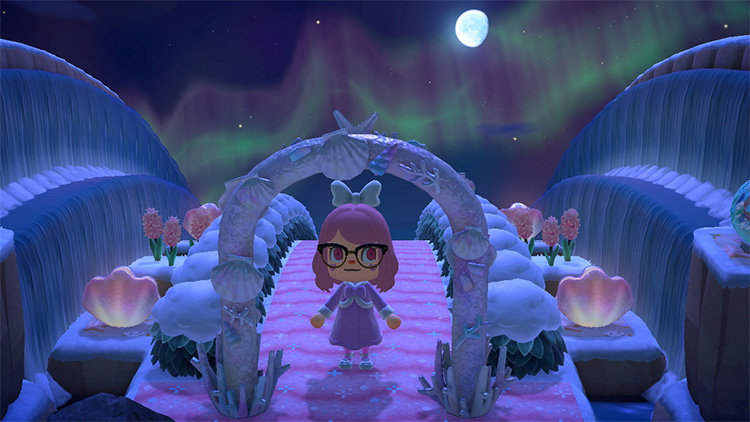 Ranking this first for obvious reasons, this entrance has my heart! And despite how challenging it looks to create, it's actually simply. This mermaid entrance has two big waterfalls on either sides, divided by a middle patch that has been created using custom design stepping stones. You can pick your whichever mermaid custom design you like for this path.
To line the pathway, you can place some mermaid items, flowers, and shrubs. The mermaid shells in this particular design look really good. To finish it off, just place a mermaid arch. And if you are looking, the Northern Lights appearing on the sky could make your day!
Looking for the best Animal Crossing island ideas? Check out these 21 AMAZING Animal Crossing island design ideas to take inspiration from.
Conclusion
So that's all, folks! This list sums up the most creative island designs for the entrance. From a custom design walkway to brick paths and sand pathways, we have included all sorts of island entrance ideas for every kind of player. So if you are looking for some really inspiring island entrance designs, this list is sure to suffice.
Go ahead and take all the inspiration you need from these Animal Crossing entrance ideas. Don't forget to show us your island entrance look once you are done creating. Good luck and let the inspiration strike!