Looking for the best ACNH living room ideas? If you cannot figure out what to do with your living room in Animal Crossing: New Horizons, we have compiled a list of some of the most well-designed living room ideas contributed by the ACNH community. So read on!
The living room is the first room you see when you visit anyone's house. Therefore, having a well-designed living room is a must to leave behind a good first impression and make your guests feel warm and welcome.
If you are not sure what to do with your Animal Crossing: New Horizons living room, don't worry! The ACNH community has shared their best creations on Instagram, Twitter, Pinterest, and Reddit to give you some inspiration.
Below, we have compiled a list of the best ACNH living room ideas to get you started. So go ahead and spruce up your living room to make it feel more inviting.
Top 20 Most Creative ACNH Living Room Ideas of All Time
#20 Deep Sea Cavern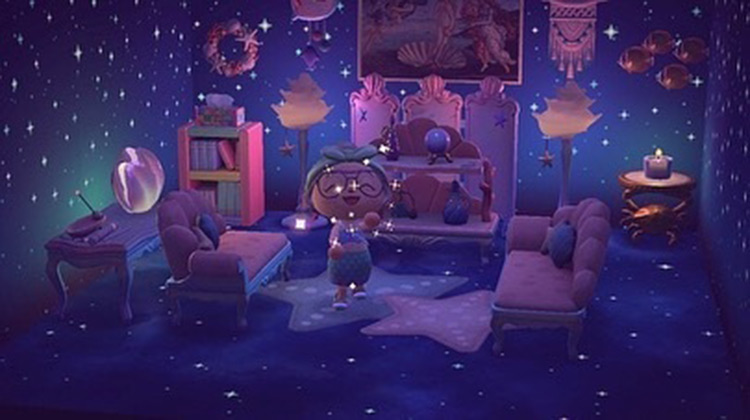 This living room design would make you feel like you are in the middle of the deep sea. To create this remarkable design, you will need starry skies wallpaper and flooring. And for the furniture, they have used the mermaid series furniture, including sofas, tables, lamps, rugs, and shelves, all of which need some pearls and shells.
So you will need to go diving for scallops to trade with Pascal for the recipes. You can even spot a wooden block bookshelf, for which you will need softwood. There is also an Astrological Cancer crab table, for which you will need star fragments.
Top finish it off, add a moving painting, called the Birth of Venus, to enhance and elevate the overall feel.
#19 Cozy Brick Living Room
If you are looking for a classic red-brick style living room, this one is the perfect design for you. This living room features a single red brick accent wall with all the other walls painted warm white. It's perfect to make your living room look stylish without it being too dark.
As for the bookshelf, this user has basically used a Classic Library Wall and added pillars and brick counters in front of it to make it look like a bookshelf. Use custom glow-in-the-dark stickers for the fireplace to make it appear more lit.
#18 Hobbit Hole Living Room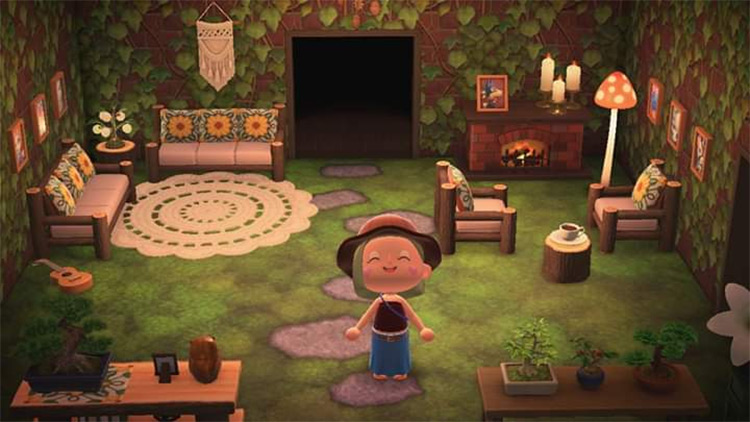 If you are a hobbit fan, this Shire-inspired living room design is the perfect abode for you. It features mossy garden flooring, a lacy rug from Saharah, and an ivy wall. You will need hardwood to craft the log chairs and couches. You can create a flowery or a boho-style design on these couches.
For the lighting, add one of two mushroom lights by crafting them from mushrooms. And voila! You have your very own little hobbit hole.
#17 Cherry Blossom Forest Room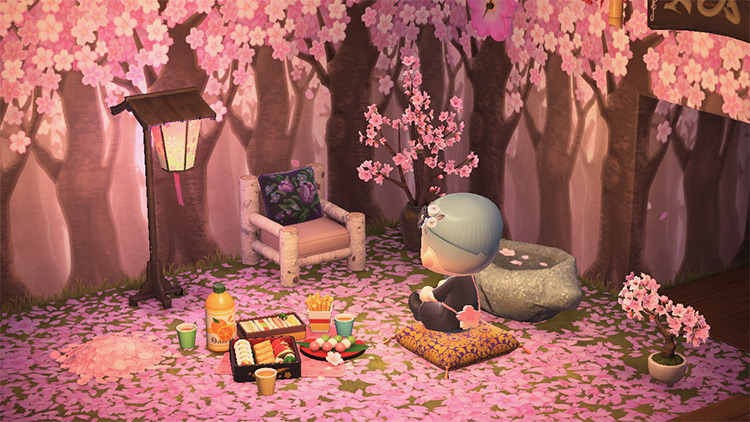 Do you love those indoor rooms that don't really feel like they are indoor? This Animal Crossing living room design looks just like the outdoors. Inspired by cherry blossoms, it will remind you of a perfect spring.
To recreate this design and craft all the items, you will need a lot of cherry blossom petals while they are still available. They have incorporated cherry blossom flooring and walls to make you feel like you are in a garden.
For the decor, you can add cherry blossom bonsai, cherry blossom pond stone, cherry blossom branches, and blossom viewing lanterns. However, don't fill the space with a lot of items. Keep it simple and light.
#16 Starry Night Living Room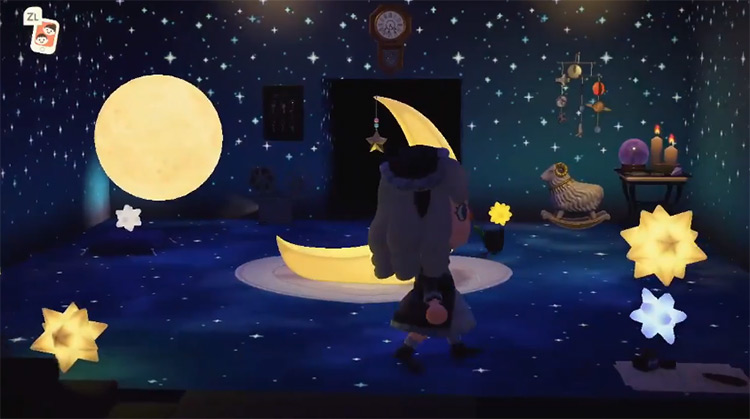 This living room design will make you feel sleepy even in the middle of the day. It is starry night-themed living room that has been designed using starry skies wallpaper and flooring. You will need to use star fragments to craft a crescent moon chair and a moon for the decor. So make sure you have enough fragments from shooting stars!
For the lighting, this designer has used nova lights, that you can learn how to make from Celeste. Finally, spread some star fragments here and there to add a starry night effect. And voila! You have your very own and very unique living room.
#15 Black, Gray, and White Modern Living Room with Stairs
This modern style living room features concrete gray, black, and white hues. This beautiful design reminds me of a loft-style living room based on monochromatic themes.
My favorite part of this design are the stairs, which have been Custom Designed especially for this room idea. You can get the codes for this stairs illusion from the creator.
So if you are someone who likes minimalistic and modern living rooms, this is the perfect design for you.
#14 Anime Playroom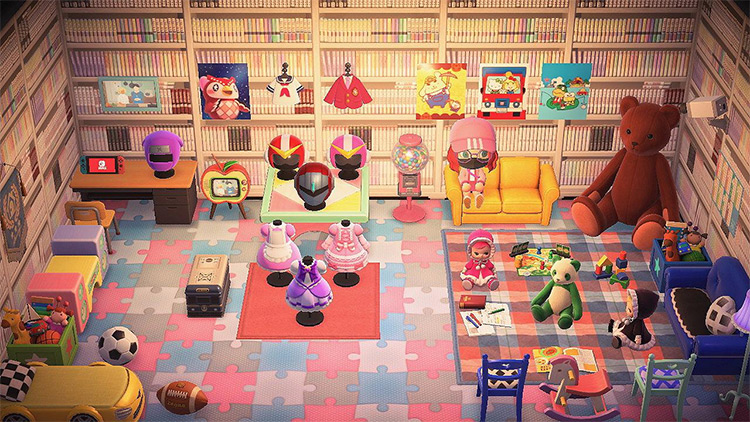 This one is for all the anime lovers out there! This design is a rather simple culmination of a lot of different items put together. For instance, you will need a lot of magazines to create a manga library wall, which is an awesome wallpaper design.
Once you have covered that, spread all kinds of toys in the room, such as a dolly, baby panda, papa bear, rocking horse, board games, and toy box. You can also become a part of this theme by getting some costumes like zap helmets, power helmets, and ninja hoods.
#13 Hogwarts Common Room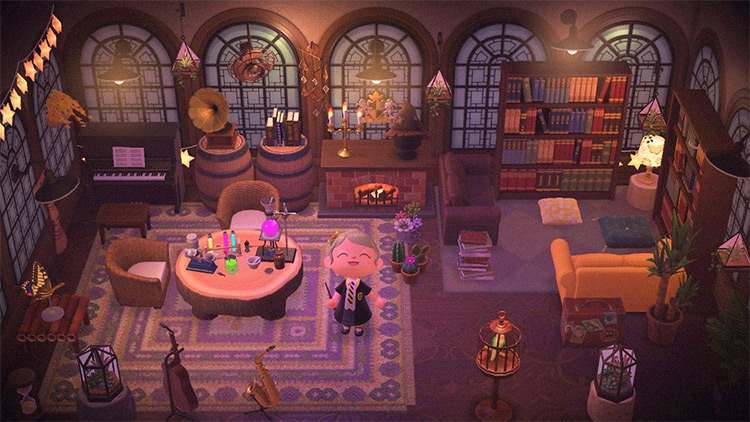 If you are a Potterhead, this Hogwarts-inspired living room design is going to be your most favorite one in this list. It uses some existing furniture items, such as double sofas, rattan chairs, and a fireplace.
However, you will also need to craft some of the items in this design, such as bookshelves from books and wood, and barrels from iron and wood. The best part of this design is the lab experiments set on the table that is just waiting for you to explore it.
You can also customizethe items to match your favorite Hogwarts house. Since this user is a Hufflepuff fan, you can go with yellow hues.
#12 Basement Library Living Space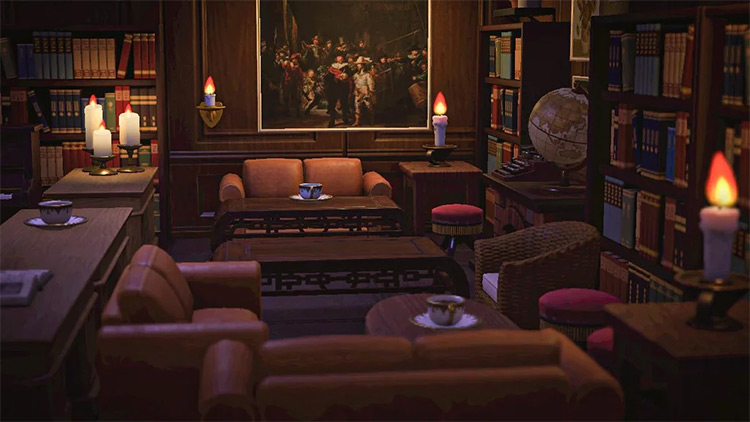 Although this area looks more like a study room than a living room, it is ideal for bookworms who love having libraries in their homes. This designer has used double sofas with imperial low tables for the furniture. And to craft all those bookshelves, you will need to get a lot of books from the Nook Shop.
To make it feel more homey and warm, decorate the area with candles and also throw in a sepia globe to go with the vibe.
#11 Conversation Pit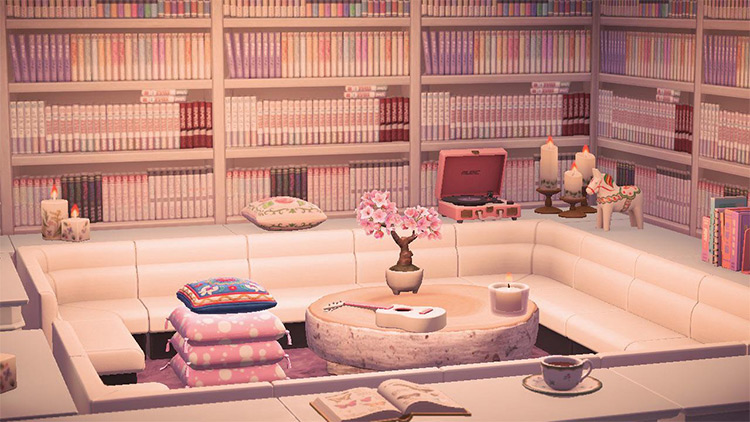 Transform your living room into a conversation pit where you can have deep and meaningful conversations with your guests. This creative living room idea is more than any average living room. It is quite easy to make as it just includes a number of box sofas and corners.
For the walls, this designer has lined all the walls with a few white den desks. The log table has been crafted using hardwood. And to craft the bookshelf wallpaper, you will need books.
Top top it off with some decor items, add bookstands, cushions, plants, and candles to liven up the space and make it more warm and cozy.
#10 Vaporwave Basement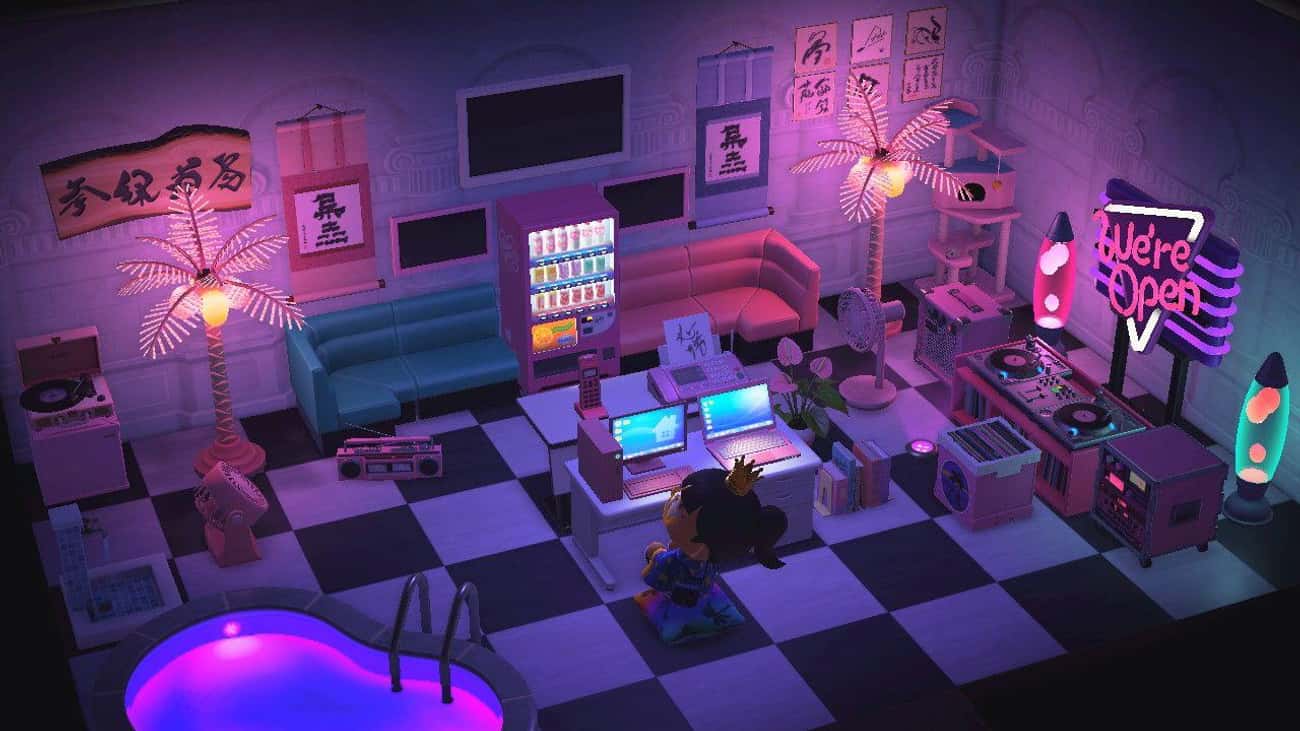 If you are a Vaporwave fan, this vaporwave-themed room design is ideal for your living room. It allows you to transform your living room into a neon-filled party room with a "We're Open" neon sign, black and white tile flooring, palm trees, a vending machine, a few electronic items, and even an indoor pool!
#9 Butterfly Garden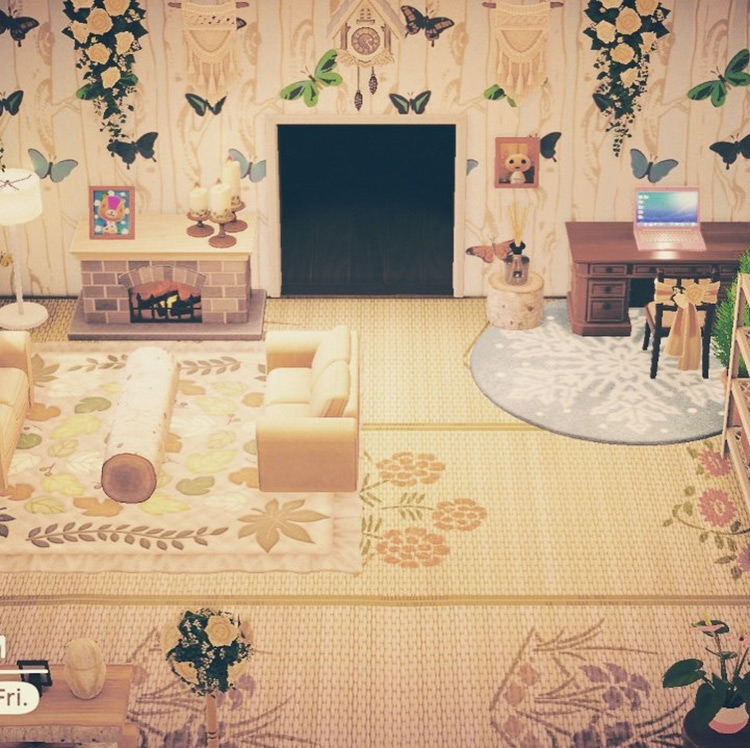 If there's one bug that you can find in abundance on your island, it's butterflies. So isn't it a great idea to base your living room's theme around them like this design does?
For a butterfly-themed living room, this designer has used butterflies wallpaper, along with double sofas and a fireplace. They have creatively used a log wild bench as a table, which totally goes with the vibe and looks super cool.
Oh and don't forget to add floral rush mat flooring to complement the butterfly theme!
#8 1940s-Inspired Living Room
This vintage room is for all the old souls out there who loft soft cream hues in their interiors. This living room design features brown, green, cream, and yellow hues to make it feel vintage and homey. For the furniture, this designer has used Baby Bear and Double Sofa in white or cream colors.
Since wood goes with the vibe, they have used Antique Mini Table, Antique Phone, and Rattan Towel Basket. To truly make it a 1940s-style abode, they have customized a Face-Cutout Standee to look like a vintage TV. Awesome, right? You can get the code for this TV from their page.
#7 Club Lounge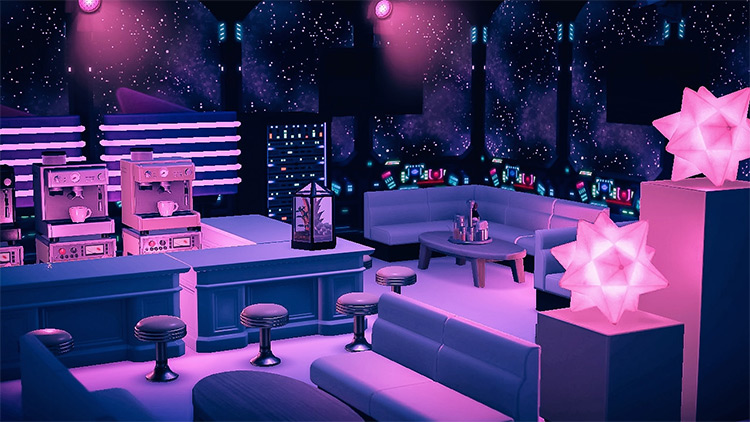 If you are someone who is always in the mood to party and love to entertain your guests, this is an ideal living area design for you. This club-themed living room features nova lights from star fragments and sci-fi walls to set the theme.
As for the furniture, this user has added a low wooden table and some stools and other furniture that you can easily get from the Nook shop. Use white den desks and box sofas to go well with the lighting. Oh and don't forget to add a few espresso makers as well at the bar.
Lastly, this user has placed the diner neon signs in a way that they face the wall. This is to ensure that you get the cool neon light without it showing the "We're Open" sign. How smart, right?
#6 Overgrown Greenhouse Living Room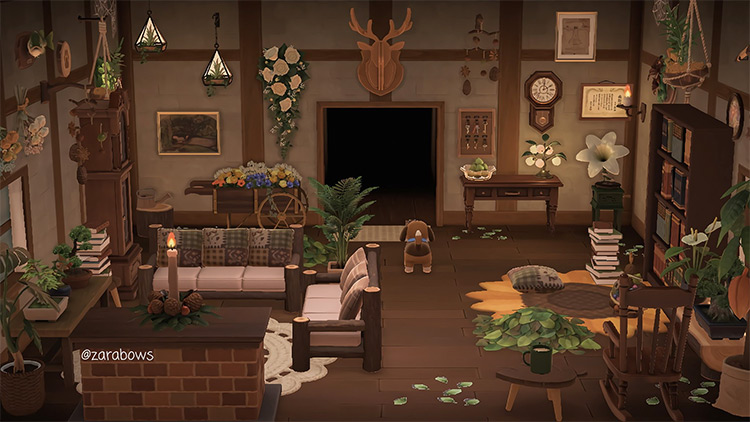 This cabin style living room is a perfect spot for people who like indoor plants and natural designs that incorporate the use of wood. From custom leaf designs to custom-made wood items, such as rocking chairs, bookshelves, log benches, and log chairs, this living room has everything that you can expect from a perfect indoor space.
The user has crafted plants, garden benches, and leaf piles by using different types of weeds and flowers. As for the decor items, you can purchase the fan palms, cacao trees, and monsteras from the Nook Shop.
Although this living room design is going to take you some time to build, it will definitely leave the best first impression on your guests.
#5 Japanese Interior and Sakura-Inspired Living Room
This one is for all the Japanese fans out there. If you know anything about the Japanese culture, then you know that their interiors are incredibly minimalistic. And this one is no less. It features very minimalistic furniture items in the center, including a Cherry-Blossom Bonsai, a Nordic Low Table, and a Flimsy Watering Can on top of it.
For the floor, it adds Light Bamboo Bath Mats and Light Stones Rugs. They have added a Custom Design Sakura Branch Window and also made its code available to all. Top it all off with some Cherry Blossom Branches for the whole Sakura vibe going on.
#4 Beach House Living Room
This incredibly homey living room idea is beautiful and yet so uncomplicated. It features white, blue, and grey hues and is designed with the idea of a beach house in mind.
The main highlights of this design include Blue Kilim-Style Carpet, Blue-Painted Wood Wall, Moroccan Sofas, Tropical Vista Wall, Moroccan Tray Table, customized Glow-In-The Dark Stickers with window panels, and Shell Lamp.
For a more detailed guide on how they got it done, check out this user's YouTube video.
#3 Living Room with Wall Aquariums
Bring more color and life (sea life, to be precise) to your living rooms by adding aquarium walls. This stunning living room design features two-wall aquariums to add color to a monochromatic room. The Underwater Wall is separated using a Partition Wall and some pillars.
For greenery in the room, they have added Plant Partitions and Scheffleras, a Small Vase with Daffodils, and a Porcelain Vase with Wisteria.
As for the furniture, they have maintained a minimalistic look by adding a Nordic Table, Simple Sofas, and a Casablanca Lilies vase on top. For lighting, add a few hanging ceiling lamps and you have your very own and peaceful living room.
#2 Fruity Funhouse Living Room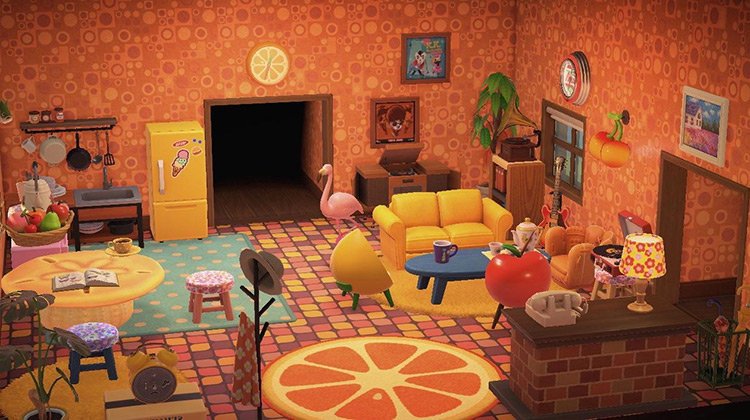 If you are looking for a rather colorful living room, this citrusy and fruity living room design is sure to catch your eye. This fruits-themed living room features a peach chair, an orange chair, a juicy apple TV, and an orange wall-mounted clock. All of these highlights together add a fun pop of color to your interior.
You can also hang your favorite records on the wall and add other furniture items, such as a throwback mitt chair, a shell table, a refrigerator, and a yellow double sofa.
#1 Ice Wizard's Palace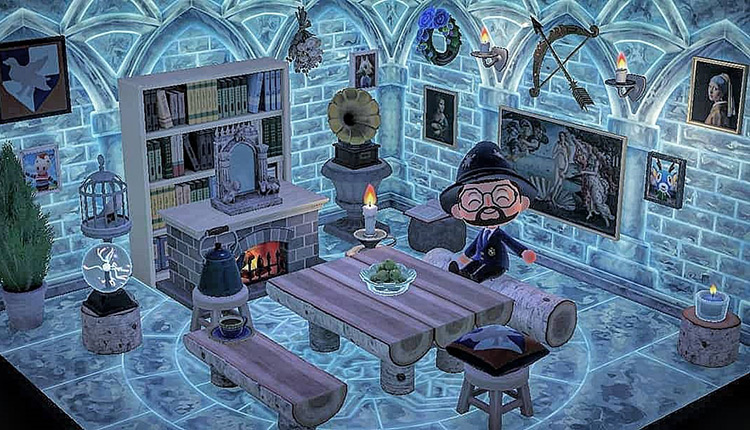 Looking to go for a more mystical and wintery living room? This living room design is made using large snowflakes that you get during the winter. It transforms your living room into an ice wizard's palace. It features an ice block flooring and wallpaper, which has been created using the snowflakes.
For the seating area, this user has added a log wild bench and a log bench to go with the log dining table. However, you can also mix and match according to your taste. Make sure to customize the wooden items to make them look white.
To make it look like it belongs to a wizard, add a gothic mirror, a plasma ball, a Sagittarius arrow, and some wall mounted candles. You can also throw in any of your favorite items that go with the theme and you'll literally have a magical living room.
Are you looking for the best ACNH Campsite ideas? Check out these 21 brilliant Campsite designs for your island in Animal Crossing: New Horizons!
Conclusion
So this sums up our top 21 picks for the best Animal Crossing' room designs. No matter what type of design you are looking for, these ACNH living room ideas are sure to give you some much-needed inspiration. From modern and vintage to themed ideas, we have included all sorts of options to suit everyone's style.
So go ahead and create your own design by taking inspiration from these ideas. Don't forget to share your creations with us. Good luck!