Looking for the best ACNH museum ideas to take inspiration from? Read on to find 20 truly awe-inspiring ideas based on various themes, including Jurassic Park, Starbucks, Celestial, Fairyland, Tropical Island, Rainforest, Rustic, Castle, Royal, Temple, and Indiana Jones.
One of the best parts of Animal Crossing: New Horizons is making Blathers happy by filling out the museum. Despite the museum being an integral part of the game, it is unfortunately not customizable, which means you can't change its appearance.
However, despite the museum being not customizable, you can still revamp its entrance with your imagination, creativity, and some inspiration. To help you get started, here are some of the best ACNH museum ideas to take inspiration from.
From skeletons and fountains to landscaping and visual illusions, there 's so much you can do to make your museum look good. So without further ado, let's take a look at some of the best ACNH museum design ideas, shall we?
Top 20 Most Inspiring ACNH Museum Ideas to Get You Started
#20 Entrance Inspired by Frida Kahlo
If you are a big fan of the Mexican painter Frida Kahlo, you are definitely going to fall in love with this museum entrance and courtyard design. Posted by u/vdevaca on Reddit, this design features a Glowing Moss Status in the center, surrounded by Medieval Building Sides walls.
To give this design a pop of color and represent Frida's culture and designs, this user also added some really beautiful butterfly models and colorful flowers. How artistic, right?
#19 Temple Entrance
This temple inspired museum entrance is designed by jin_men56. With the use of custom path codes, this player designed this stellar entrance which gives an illusion of being on top of a pyramid or a hill with multiple sets of long stairs.
The steps have been designed by the player and you can have them too by getting their code. Still in awe of this masterpiece!
#18 Museum Ruins Entrance
If you have played the game Temple Run on your phone, this design would definitely remind you of that. This design has a more ancient theme which makes the entrance of the museum look like temple runs. Created by u/KirbysDreamland93 with the help of a custom path code for the worn-out tiles, this design is adorned with green wines to add to the theme.
This design uses Rock Head Statue, Ruined Decorated Pillars, Glowing Moss Statues, Ruined Broken Pillars, and a Forbidden Altar to complement the theme. So if you feel like going for an Indiana Jones vibe, go ahead and build this design!
#17 Unique Pathways
This museum design features incredibly unique stone-like pathways along with paintings on the cliff that add to the whole feel of the design. It also features a cute little study corner in front of the museum with a classic record player and some trophies.
The rest of the design is adorned with fossils and multiple ACNH items that just go really well together. The yellow tent on the left also looks great in this theme and just goes well with everything else.
#16 Fairy Fountain Entrance
This fairytale themed museum design is created by a Tumblr user mochi-moss, who has aimed for a magical theme for the entrance. The player has created Stone Paths in the design, added fairy wings behind the fountain, spread beautiful purple, pink, yellow, and white flowers, and also added two Valiant Statues to add a little symmetry. It is both breathtaking and beautiful.
#15 Castle Museum
If you are looking for a grand entry to the museum, this castle design by u/SpecterCody is all you need. This design features Castle Towers, Decorative Pillars, Castle Walls, and a super cool Stone Staircase at the entrance of the museum to make it look like a castle.
You can also adorn the castle walls and pillars using Plant Partitions, Floating Biotope Planters, Triangular Topiaries, Bushes, and Cypress Plants.
#14 Museum Entrance Design Ideas
This beautiful green garden entrance for the museum is just too symmetrical and aesthetically pleasing. This sophisticated city-styled garden features a grand entrance with staircases leading up to it. When you reach the top, there is a small garden with a few benches and flowery bushes.
There is also a beautiful archway and some lush green hedges that make it appear like a royal garden. Going forward, you will see two statues on either side of the museum, adding to the overall feel of the theme. There are also some stepping stones on each side for you to step on and enjoy the peaceful way. Truly mesmerizing!
#13 Cafe Entrance
This one features a beautiful cafe outside the entrance of the museum where your visitors can sit and enjoy the view. Created by afterglow.horizons, this design uses beautiful Red umbrellas, multiple Bistro Tables, and Wood and Metal chairs to create that cafe environment.
The player has used Medieval Building Sides as small walls and also added a cute little waterway for sailboats and yachts to float by. Such a relaxing atmosphere, right?
#12 Hidden Spring Entrance
Straight out of a fairytale, this heavenly design adds a hidden spring fountain at the entrance, making it look incredibly sacred and pure. The player has also added blue flower petals to add a little color to the mix. You can also put Hydrangea Bushes near the spring to go with the theme.
To be able to pull off this design, you will need to terraform a little to place some waterfalls and a pond below the museum. Definitely not an easy design but totally worth it!
#11 Rock Garden Entrance
This one is for all the rock collectors out there. This design features a rock garden entrance where you can display all your rocks and still manage to make it look heavenly. This design is embellished with colorful flowers, mushrooms, butterflies, and flower carts. There is also a fountain and some statues that you can decorate it with.
#10 Modern Building Entrance
Looking for a modern museum building in ACNH? Created by the Twitter user Thorin_ACNH, this design uses custom Simple Panels to create a modern building with sliding glass doors and big glass windows.
The building has also been expanded using Wedding Pipe Organs. The final result? A modern architectural wonder which is fit for a museum building.
#9 Rustic Wooden Deck Entrance
This beautiful and serene museum entrance design features a wooden deck with a rustic feel, leading up to the museum. In the middle of this deck, there is a small rock garden with flowery bushes and a lamp post to add a natural feel. There is also a little pond surrounding the lamp post.
This user has used Garden Benches, Lattice Fences, and Log Stakes to make the design feel rustic and elegant at the same time. There is also a bicycle placed at the front to add the final touches.
#8 Starbucks Museum
This is yet another café-style design which brings Starbucks to the world of ACNH. This neat design blends the cafe perfectly into the theme with a staircase leading up to the museum. There is also a purple flower garden at the front to add a little color to the design.
The seating area has been adorned with some fossils to make sure your visitors know that they are near a museum. The Starbucks cafe features green and white furniture and a stall, matching the brand's theme.
#7 A Celestial Entrance
This dreamy entrance to the museum has a starry night theme. All the stars and even the moon have come down to give you a wonderful welcome to the museum. This design features Nova Lights, Star Fragments, Zodiac Star Fragments, Large Star Fragments, and a Moon.
These celestial items have been set over Turkey Day Garden Stands. The creator has also used Zodiac furniture everywhere, including Scorpio Lamps, Cancer Tables with Candle Sets, Capricorn Ornaments, and Aquarius Urns. How amazing, right?
#6 Sunken Museum
The Sunken Museum entrance is a mystery-themed design straight out of an Indian Jones movie. This design hides the museum building by using huge towering cliffs, bamboo trees, and waterfalls. Some historical artifacts have also been hidden at the center, including Glowing Moss Statues, Golden Vases, Warrior Statues, a Forbidden Altar, Swords, and Double-Edged Swords.
xixi_crossing has used multiple custom design codes for flower tiles and brick staircases. You can use these on your own design as they are shared by the creator themselves.
Some other items and decorations used for this entrance include Glowing Moss, Glowing Moss Ponds, Ruined Decorative Pillars, Giant Vines, Ruined Broken Pillars, and Scorpion models.
#5 Rainforest Museum
This lush green design looks like a scene from the Jurassic Park movie. This design features a rainforest themed museum surrounded by huge lush green palm trees and plants. This user has used Palm trees, bamboo, and a lot of foliage to get an overgrown jungle feel from the design.
This would go perfectly well on a stormy night and look even better during the day when the sun is out. Watch as the visitors wander around through the thick forest in search of the hidden museum. A rainforest adventure awaits them!
#4 Skeleton Garden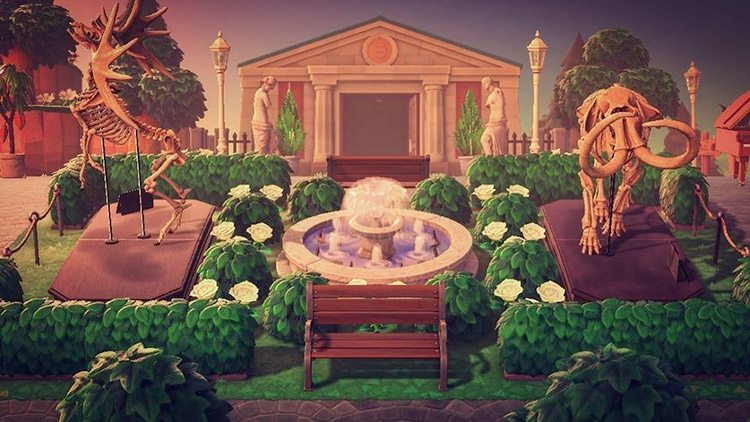 This design will remind you of the movie Night at the Museum. Featuring huge skeletons at the entrance, this design has a skeleton garden in the front lawn with beautiful roses arrangements, a fountain, and plenty of shrubs. There is also a bench at the front where your visitors can sit and just be in awe of how incredible this design looks.
So bring the dinosaur's natural habitat to life by taking inspiration from this skeleton garden entrance.
#3 Haute Arte Museum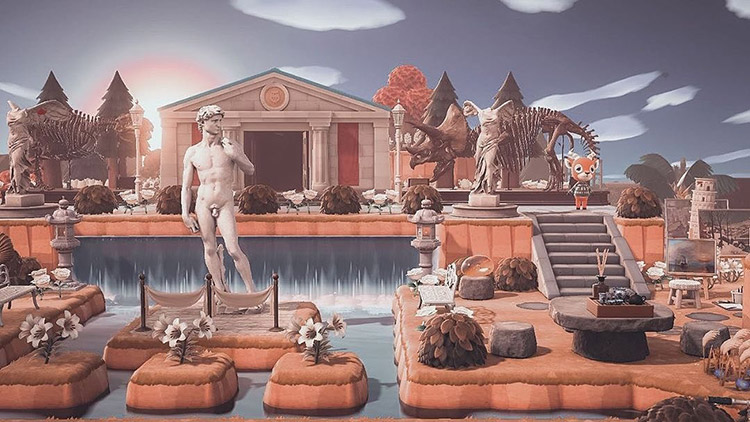 This museum design is everything you can expect from an ideal museum. It features huge statues, paintings, and bones, a lot of them! If you are looking to get a 5-star rating on your island, this one would surely get you one.
While this design seems a little all over the place, it is certainly not messy as the bones, statues, and paintings are placed proportionally. It even has a stone dining set where you can sit for an afternoon tea after visiting the museum.
#2 Royal Entrance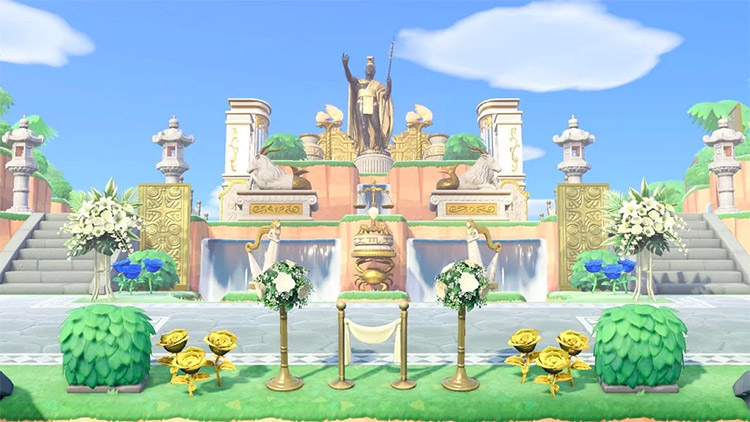 This one is nothing short of a modern day marvel. This opulent museum design would feel like a royal entrance to a palace, adorned with gold roses, Star fragment statues, and golden harps. While you are standing there admiring all these treasures, you will realize that there is actually a museum behind all these fine things.
The creator has used golden elements and decorations, along with blue roses for a pop of color and golden roses to represent the magnificence of this design.
#1 Jurassic Entrance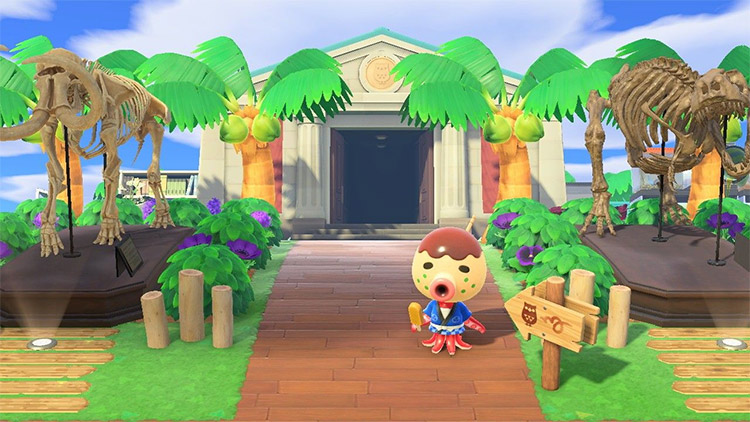 This Jurassic entrance is actually a mix of some dino displays and a classic island theme. To set the tropical island theme, the creator has used tropical flowers and coconut trees. And for the dino displays, they have adorned the. entrance with dinosaur exhibits, lit up by handy spotlights. You will also find a direction sign pointing your way into the museum.
How cool, right?
Check out these amazing Minecraft glass house ideas to build the most modern designs and impress your friends.
Conclusion
So that's all, folks! This list sums up the best ACNH museum ideas that you can take inspiration from. Thanks to these incredibly talented and artistic players, we have the most awe-inspiring designs that we can bring to life in Animal Crossing: New Horizons. So go ahead and pick your favorite ACNH museum idea and get started. Feel free to share your personal designs with us and contribute to the community.