In this article, we will go through a comprehensive list of the top 10 best Minecraft mods for Windows 10. Those mods can be installed mostly with Forge and sometimes, it may require Fabric. To install those mods, you just need to download them and place them in the correct folders, like the mods folder. Then just install Forge or Fabric (and Optifine if you want to improve your performance), and you're good to go!
List of The Top 10 Best Minecraft Mods for Windows 10
#10 Iron Chests
The first mod in the list for Windows 10 Edition is Iron Chests. Through many and many updates, the number of items in Minecraft is just getting increased over time and if you're planning to play a modpack with hundred of mods, it's getting chaotic very soon to store all of your items.
Iron Chest provides several new chests with different tiers, like copper chest, iron chest, gold chest, silver chest, crystal chest, and even obsidian chest. The basic tier can hold 45 stacks of items, and the obsidian chest can hold up to 108 slots and blast resistance.
#9 Storage Drawers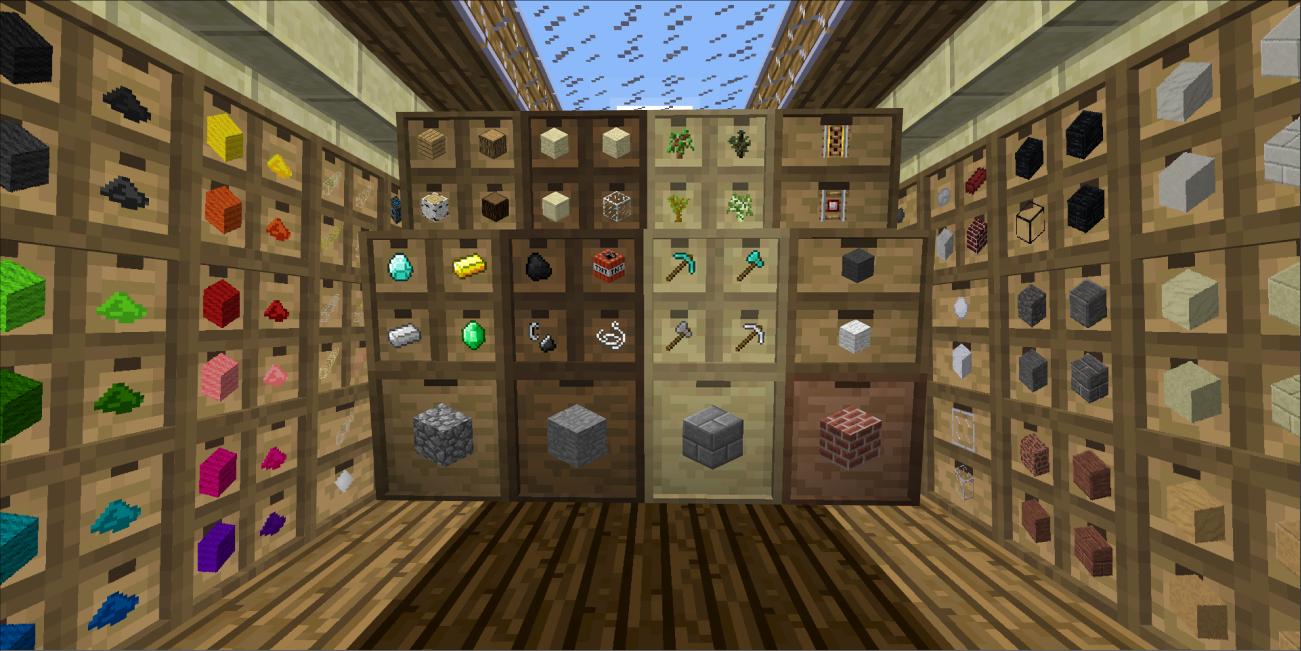 Another storage relative mod for Windows 10 PC! Just like the Iron Chest mod, Storage Drawers has over 100 million downloads while providing a bunch of new chest items to the game. There are six main drawer types according to the wood type: oak, birch, spruce, jungle, dark oak, and acacia.
The great thing about the drawer in this mod is the item you store is visualized by the icon in front of the drawer. The interface and usage are quite simple. You right-click on the drawer to store a whole stack, left-click to get one item out, and shift + left-click to get one stack out.
You can also configure Redstone with drawers to automate the storing process or even use them to do other things and let the game run itself. With just one click, you can store all of the items in your inventory in their corresponding drawer.
#8 Biomes O' Plenty
Biomes O' Plenty is an extraordinary mod that adds hundreds of new biomes to the game, making the world more alive and varied in your Windows 10 version of Minecraft. With nearly 80 million downloads, this mod is frequently updated and you can now install Biomes O' Plenty in Minecraft 1.18 version.
Not only using old blocks and just rearranging them to create new biomes, this mod actually contain a lot of ambient and natural blocks like wheat, cattail, different leaves' color, and a lot more! This mod's world generation alone is amazing enough that can keep you playing for weeks! Just remember, Biome O' Plenty cannot modify the existing world, that means you have to create a brand new world for this mod to work.
Although this mod creates a wonderful new world, using any texture packs may make it look unnatural since normal resource packs may not cover all of the new blocks in Biome O' Plenty, even with a behavior pack. That's the only point you should consider when installing this mod on your Minecraft Launcher.
#7 Just Enough Items (JEI)
With over 1058 items (this is for Minecraft 1.18 Cave & Cliff update), it's quite hard to manage all of them and remember every single crafting recipe. With JEI installed within Minecraft Windows, you will notice a new menu bar to the right when you press "E". This contains all of the items (including items and blocks in other mods too) for you to search.
You can see recipes about how to craft specific items, as well as their usage in other recipes. This mod is fully customizable since you can change the hotkey in the setting, or even enable cheat mode where you can get items from the panel. Nowadays, you can see this mod in literally every mod pack. This is by far the best utility mods out there!
#6 WAILA
WAILA or What Am I Looking At is another small Minecraft Forge visual mod that adds a small tooltip on the screen, simply showing what item or block you're looking at. Simply as that, but this will help your gameplay a lot if you're new to the game or play in a massive modpack. You can also config the size and position of the tooltip in the main menu to suit you the best!
You can install this straight in the Minecraft directory and play in multiplayer mode without any problems. Just make sure to choose the correct version of Forge and place the mod in AppData => .minecraft => mods folder.
#5 GraveStone
Being dead in Minecraft is annoying, especially if you died near lava and your stuff feels all over it. To make the game more enjoyable and realistic without too many modifications, the GraveStone mod creates a gravestone at the place you died, with all of your belonging stored in it.
Every time you die, you will get an obituary. This item will show you the name, the dimension, the reason, the coordinate of your death, and even the list of items you have. When you find your gravestone, simply break it using your hand and you can get all of your stuff back!
#4 Waystones
If you're a fan of RPG games and looking for a specific mod like teleportation, you will be familiar with the Waystones mod. Basically, this mod adds craftable way stones that can be placed in the world for fast traveling. You can also find them spawn naturally in the world and mine them for later use.
Like many other add-ons, one great feature of Waystones is you can even name your location. If you have a lot of way stones to travel back and forth, this will be a big help!
#3 Ice and Fire: Dragons
What is the missing mob in Minecraft that a lot of people are already requesting Mojang to add? Dragons! Ice and Fire Dragons mod by far is the best mod for Windows 10 since it adds three dragons into the game, fire, lightning, and ice. This mod is quite popular and you can run it pretty much in many launchers.
There are also a lot of new features like collecting dragon's bones and breath to craft powerful armors. And still, this mod not only adds dragons, but also some mythical creatures like Cockatrices, Sirens, Trolls, Death Worms, Cyclops, and a lot more!
#2 The Aether
Minecraft dimension mods have always been a huge inspiration since they provide a unique experience to Minecraft players. One of the best dimension mods is the Aether – where you will enter the high sky dimension with floating islands, mining new minerals, and fighting epic bosses.
Unlike other Java Edition dimension mods, The Aether is well-developed with custom biomes, creatures, items, and even structures. With those features, The Aether dimension is too good compared to the Nether or the End dimension. And it almost makes its way to the main game as a new dimension. However, the idea is abandoned not long after.
#1 Traveler's Backpack
If you love the nomad life, where you travel around the world, or do not want to set up a base yet, Traveler's Backpack is the best Java Minecraft mod for you! This mod adds a backpack that can be fully customized and has many special tabs and features to help you survive the wild night.
In Traveler's Backpack, you can store more items and even fluids like water and lava in your backpack. At night, you can use the backpack to lay down the sleeping bag, very convenient!
Frequently Asked Questions
Does Minecraft for Windows 10 have mods?
Yes, it does! You can choose any mods on our website and install them in your mods folder. If you play on Windows 10 with Bedrock Edition, you may not be able to play all the mods. Instead, check out these top 10 mods for Minecraft Bedrock Edition.
Can you use Curseforge mods on Minecraft Windows 10?
Depending on which Minecraft version you install on Windows 10, you will be able to use mods from the Curseforge website. If you install Java Edition, you literally can install any mods on Curseforge. Otherwise, you must look for Minecraft add-ons instead.
Where is the mods folder in Minecraft Windows 10?
Minecraft mods folder in Windows 10 can be found in C:\Users\YOUR_USER\AppData\Roaming\.minecraft\mods. If you can't find the mods folder, just create a new one and name it "mods".
Conclusion
We hope through this article, you can find some interesting mods for Minecraft on Windows 10. If you're already upgraded to Windows 11, you can also try those mods without worrying too much. We will cover the list of the best Minecraft mods for Windows 11 soon! With that being said, enjoy the mods!