This is the ultimate list of Skyrim clothing mods for all races. We have compiled 16 most popular and downloaded Skyrim clothing mods of all time for both Oldrim and Skyrim SE. From bug fixes and retextures to new clothing items, we have covered everything.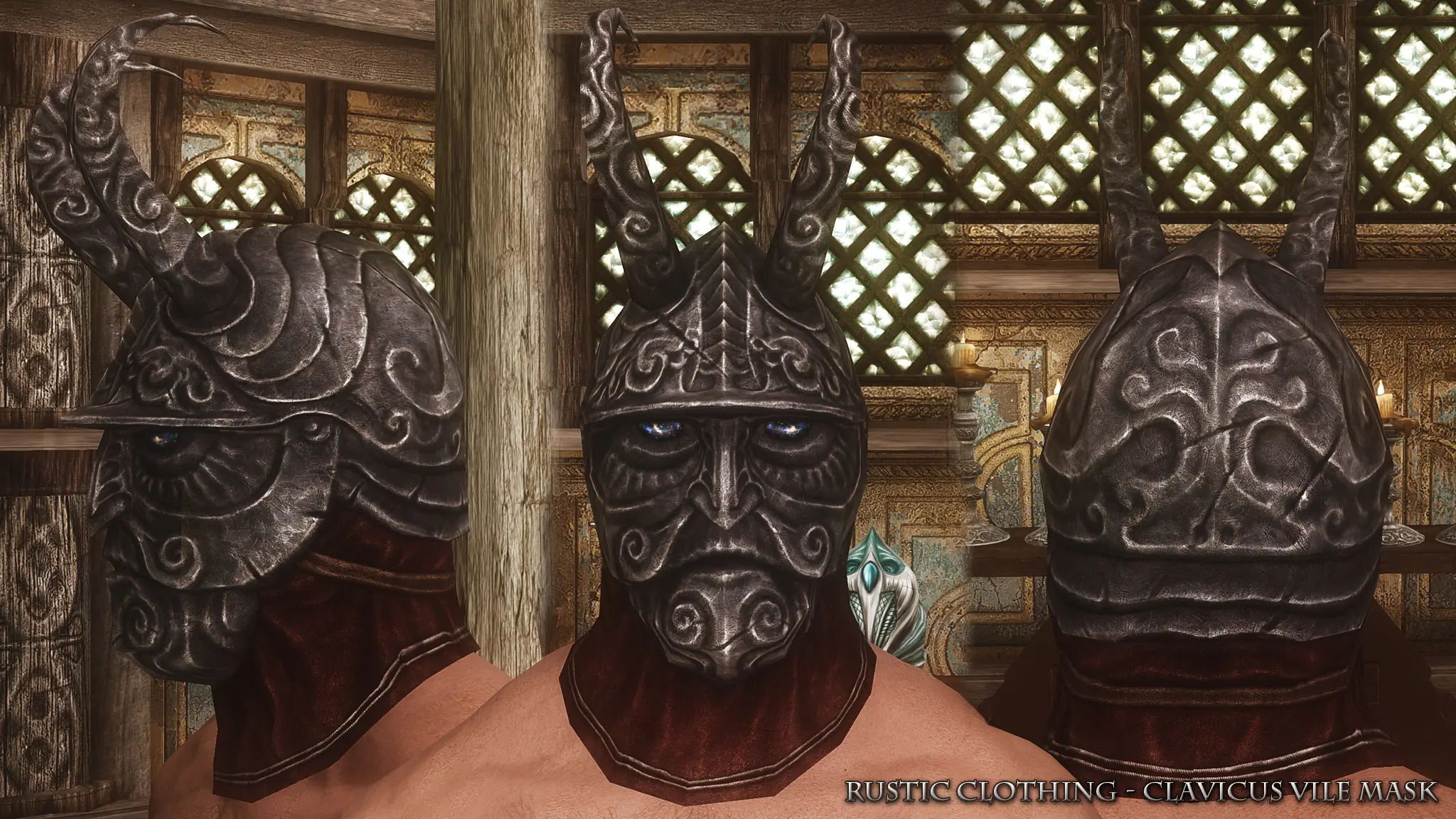 Have you been on the lookout for the most popular Skyrim clothing mods to make your game even more interesting and fun? Well, you've come to the right place!
These attires are everything your Skyrim or Skyrim SE character needs to look more intimidating – so much so that your enemies will think twice before attacking you.
For those of us who are more into attractive ensembles than intimidating, don't worry! we've also added some uniquely gorgeous outfits that will make your The Elder Scrolls V: Skyrim character stand out on the battlefield.
So, are you ready to find out which Skyrim mods you should definitely consider to enhance your character's overall look and gameplay? Let's begin!
16 Best Skyrim Clothing Mods
#1 Rustic Clothing – Special Edition
The Rustic Clothing Mod, created by Gamwich, is perfect for both males and females in the game. It comes with a BC7 compression and offers a high-resolution rustic clothing collection overhaul. While the mod doesn't contain meshes or ESP, it has included a retexture of all the clothing items found in the game as well as the three DLCs.
The BC7 compression was used for all the dual-layered diffuse textures and normal maps, while the single-layer diffuse textures are in DXT1. This mod is a perfect craft for those who wish they could see the tiny details on their hoods, pouches, leather, armor sets, capes, and cloaks of Skyrim in high resolution.
The aim of this mod is to make your gaming experience worthwhile and the creator has done a splendid job. However, bear in mind that since this mod enhances all vanilla textures of Skyrim clothing, it will consume quite a bit of VRAM and hard drive space. Other than this, we think this Is one of the best clothing mods for Skyrim and definitely worth looking at.
Download the Rustic Clothing mod for Skyrim and Skyrim SE now!
#2 Improved NPC Clothing – High Res
Offering an expansion pack, the Improved NPC Clothing mod, available for both Skyrim and Skyrim SE, adds high-quality and resolution commoner clothes to your game. The mod creator has taken the liberty of retexturing all of the 29 outfits to 2048 x 2048, however, you will also have the option of switching to 1024 x 1024.
Moreover, you can also avail the option of increasing dirt/size for different types of bodies according to your liking. The mod was specifically designed for gamers who think some of their NPCs, like the merchants, could use a little boost of resolution and texture for their clothing.
It is pertinent to note, however, that this mod will only upgrade the look of clothing items and not bracers, shoes, etc. Additionally, the expansion pack includes 1024 x 1024 retextures for Redguard, Necromancer, Thalmor, Warlock, Mages, and Emperors and you will also find a diversity of options for all males and female characters.
Download the Improved NPC Clothing – High Res mod for Skyrim and Skyrim SE now!
#3 Weapons Armor Clothing and Clutter Fixes
Want to upgrade your game looks and ensemble variations? The Weapons Armor Clothing and Clutter Fixes mod fixes inconsistencies and bugs for everything! This includes Skyrim's clutter items, jewelry, clothing, armour, and weapons.
If you wish to achieve more consistency between your armors and weapons by changing keywords, values, and other properties, you should take a look at this mod by kryptopyr. Your vanilla outfits, weapons, armor, jewelry, and clutter records will be completely bug-free with this outfit mod.
You can scale your armor and weapons consistently, strengthen the enchantment of your enchanted rings, apply perks to all items consistently, change the crafting categories, make your inaccessible item playable, and do a lot more with this mod.
Download the Weapons Armor Clothing and Clutter Fixes mod for Skyrim SE now!
#4 Clothing and Clutter Fixes
This is another clothing and clutter fix mod that focuses on correcting value settings, inconsistent weights, and keywords for Skyrim's clutter, jewelry, and clothing items. The mod will allow you to scale enchanted jewelry according to its quality, replace hooded robes with standalone robe and hood versions, and wear circlets with hoods.
This mod in particular will help you dress your NPCs in opulent outfits, perfect for their background and position. The high-quality textures are backed by a diversity of options and different outfits for NPCs that will enhance your gameplay significantly.
Download the Clothing and Clutter Fixes mod for Skyrim now!
#5 Armor and Clothing Extension
Since we're all for lore-friendly clothing options and diversity, we couldn't help but include this mod on this list of the best Skyrim clothing mods. Your NPCs will have more appropriate attire options in the menu for their specific position and rank if you decide to download this mod.
For example, during the progression of the Civil War quest, the new appointees and Jarls will change into a little something that more closely fits their new roles. You will also have the option to add a limited armor value to these clothing items.
For this mod to work efficiently, you will require the rustic clothing texture overhaul, which is #1 on this list, the mod listed as #3 SKYUI.
Download the Armor and Clothing Extension mod for Skyrim SE now and add clothing options and outfit changes to your game!
#6 UNP Body Fit Armors and Clothing
The world of Skyrim is filled with numerous male and female body types. This mod will add clothing items and armors that are explicitly made to fit the UNP main and skinny body. Moreover, the mod will also add first-person meshes, hoods, gloves/gauntlets, footwear, and amulets.
You can upgrade your Skyrim experience with this mod as it replaces all DLC and vanilla armors and clothing items with edited meshes. Moreover, it will also add some female armors and clothing items, such as the Prisoner Rags, that were not previously included for female characters.
The meshes include those for Mage Joruneyman Hood, Mage hood without fur, and Female Executioner Set.
Download the UNP Body Fit Armors and Clothing mod for Skyrim SE now!
#7 Elaborate Textiles – NPC Clothing Retexture
If you're looking for a mod that will add individual character, diversity, and more details to Skyrim's clothing collection for female and male characters, the Elaborate Textiles – NPC Clothing Retexture mod will do just that.
The lore-friendly designs will beautify the textiles with various resolution options from 512 x 512 to 1024 x 1024, which is perfect for those gamers who can't add 2048 x 2048 textures to their game.
Download the Elaborate Textiles – NPC Clothing Retexture mod for Skyrim now!
#8 Weapons Armor Clothing and Clutter Fixes – CBBE Patch
This mod by Shiva182 adds first-person meshes and bodyslides that have been added or edited by ACE [Armor and Clothing Extension] and WACCF [ Weapons Armor Clothing and Clutter Fixes] for CBBE SE. Furthermore, the mod also includes pre-built meshes for CBBE Curvy [outfits].
The first-person meshes include color variants for miner's clothes, merchant clothes, and farm clothes. You will find the following bodyslides in this mod:
Mage Jounreyman hood (ACE)
Mage hood (no fur) (ACE)
Dark Brotherhood Hoods (WACCF)
Dark Brotherhood Sleevess (WACCF)
Dawnguard 3 Sleeveless (WACCF)
Ulfric clothes set (WACCF)
Executioner set (WACCF)
Download the Weapons Armor Clothing and Clutter Fixes – CBBE Patch mod for Skyrim SE now!
#9 ClothingCraft
The ClothingCraft mod for Skyrim has been created by DrMonops and it adds new materials, including flax, and recipes – basically, everything you'll need to craft vanilla clothing. The mod has been designed to compliment kryptopyr's Clothing and Clutter Fixes and Complete Crafting Overhaul Remade 1.7 beta.
Additionally, if you're using ClothingCraft 1.0 for Immersive Armors, you will also need Immersive Armors. Other than this, you should be playing Skyrim with at least a 1.9 update, Dragonborn, Hearthfire, and Dawnguard.
The mod also adds new crafting workstations, such as Spinning Wheels and Sewing Baskets, at various locations, including apothecary/alchemist shops, various farmhouses, the College of Winterhold, the Radiant Raiment, and Dragonsreach.
The mod also helps craft unenchanted versions of the enchanted items, such as Shrouded Robe and Archmage Robe, fashionable, stylish cloak, and faction clothing. Here's a list of the new crafting materials you'll get from this mod:
Dyed silk, cotton, and linen
Dye
Silk, cotton, and linen cloth
Spun silk, cotton, and linen
Northern flax
Download the ClothingCraft mod for Skyrim and the ClothingCraft Redux mod for Skyrim SE now!
#10 Armor and Clothing for Kids
With this PlagueHush mod, you will receive all the modded and vanilla jewelry, clothing, and armor that has been specifically designed for use by children. It will alter the child races so they can don anything from the menu that is originally intended for adults.
In addition to clothing, jewelry, and armor, the child races can also wear shields, rings, amulets, and circlets intended for adults. Moreover, it has been tested for compatibility for the following:
My little kitty Ma-Rakha-Khajiit boy
My little hatchling Ram-Ku-Argonian boy
Adoptable Argonian Hatchling – Chases-Starlight
KhajiitChild Maisha
Children Fight Back
RS Children Overhaul (and playable children's race)
Download the Armor and Clothing for Kids mod for Skyrim now!
#11 Weapons Armor Clothing and Clutter Fixes (WACCF) and Summermyst Enchantments Patch
Created by RickTheNexus, this mod offers a patch that carries the WACCF changes into Summermyst Enchantments. Even if you use a bashed patch, it is required for consistency. It has been specifically created to ensure that the bashed patch, as well as the Summermyst Enchantments, copy the weapons into the level lists and show up at the proper WACCF levels.
Download Weapons Armor Clothing and Clutter Fixes (WACCF) and Summermyst Enchantments Patch for Skyrim SE now!
#12 2X Clothing Re-Mix
This mod offers a high-detailed, remixed, and fine-tuned retexture of the clothing in Skyrim. It offers a high visual improvement while maintaining minimal performance loss and a low memory footprint. The focus of this mod is primarily on quality, dirt, texture quality, and textile patterns.
The mod is great because it pays attention to detail. After all, who wants to see a farmer in freshly pressed clothes?
So, you can expect the beggars' clothes to be more dirty-fied and made of cheap burlap. Or perhaps notice that the farmer's jacket is made out of patched leather scraps and middle-class clothes made from medium-grade cloth and wool. In contrast, fine clothing items are made with brighter colors and fine patterned textures.
The mod includes the following:
Archmage
Mage Apprentice and Mage Journeyman sets
Mourner's Clothes and Wedding Dress
Bandit Outfits
Sheogorath Outfit
Psiijic Robes
Mythic Dawn Robes
Download the 2X Clothing Re-Mix mod for Skyrim now!
#13 Witch Girl Robe ClothingMod001
This standalone mod adds a hat for Hyacinth. It can be acquired from the chest in front of Breeze Home. The hat can also be created in leather and leather strips. Furthermore, you can also create the boots and gloves, given you have an iron ingot.
There are four different variations, which include the Hyacinth variation, the author-recommended color scheme, pure white, and the default colors. The underwear is consistent in all patterns. Furthermore, the modder has gone a step further to ensure that the design does not collapse when you take the hood off.
Before you download the mod, it is vital to remember that you might see a tiny glitch in arms and gloves when using magic and bow in first-person perspective.
Download the Witch Girl Robe ClothingMod001 mod for Skyrim now!
#14 Shiva's Vanilla Clothing Replacer SE
The Shiva's Vanilla Clothing Replacer SE mod replaces some of the vanilla clothes in Skyrim SE with those from Apachii's Divine Elegance Store. However, you need to ensure that you have Apachii's Divine Elegance Store 1.8 or above before trying out this mod.
You will also find ESPs that are compatible with Armor and Clothing Extention and Weapons Armor Clothing and Clutter Fixes. There are three different versions; the vampire version, the armor version, and the clothing version.
For the clothing version, if you wish to replace Elisif's circlet with a tiara after the game has already been started, you'll need to open the console and disable and enable Elisif.
Download the Shiva's Vanilla Clothing Replacer SE mod for Skyrim SE now!
#15 UNP Slave Leia Clothing
An adaptation of neovinci's mod, this mod by sorajmoe adds non-craftable and non-upgradable clothing items, which do not include armor. In addition to human races, this mod also works on beast races. If you haven't figured it out yet, this mod pays homage to the popular character Princess Leia from Star Wars.
If you're a fan of Star Wars and have been looking for ways to dress your followers in Princess Leia's famous outfit, this mod will give you just that. There might be a few glitches here and there, however, since this iconic outfit can't be acquired elsewhere, we are in love with this mod.
It is also important to note that this mod only modifies the MerchantCaravanA chest used by Ri'shaad and that no other files are required for this to work. The sliders work and the UNP Base main [slim to heavy] is supported. Before playing, check your Data Files and ensure that leia.esp is selected.
Download the UNP Slave Leia Clothing mod for Skyrim now!
#16 Project Clarity – Vanilla Clothing and Jewelry Textures Redone
The Project Clarity – Vanilla Clothing and Jewelry Textures Redone mod by IconicDeath adds high-resolution, AI-upscaled jewelry and clothing textures for every single piece of vanilla jewelry and clothing in Skyrim SE. The mod adds items that are 100% lore and vanilla-friendly.
Moreover, to fit the theme of the Dark Brotherhood more closely, Cicero's Jester clothes and the Dark Brotherhood robes have been darkened. You can use this mod as a base to build upon or as it is to replace the jewelry and clothing textures.
Download Project Clarity – Vanilla Clothing and Jewelry Textures Redone for Skyrim SE now!
Concluding Thoughts
There are several other Skyrim clothing mods that you will come across on Nexus Mods, including those that introduce new styles of cloak, monk robes, face masks, and even backpacks. We've also added a list of related articles at the end of this article for your convenience. Take a look at the list to find more mod themes for your favorite games that you might be interested in.
The aforementioned were just some of the many Skyrim clothing mods that we're absolutely in love with! If you want to enhance your gaming experience and make your characters more appealing while keeping them lore-friendly, you should definitely give some of these a try! Moreover, you can also take a look at some of the most exciting bodyslide mods for Skyrim here.